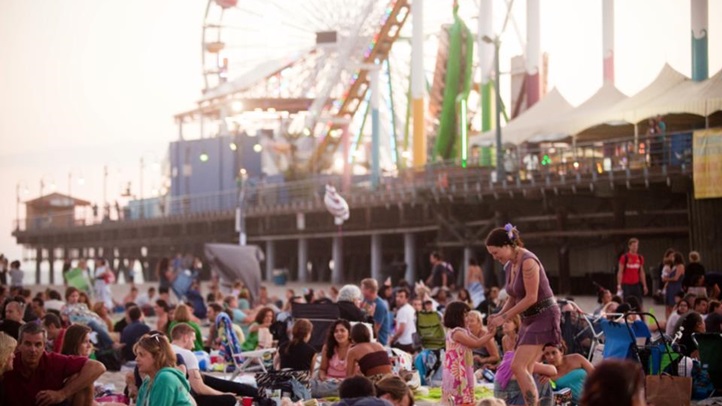 If you've ever made someone a terrarium, or gifted one of those small jars filled with meaningful treasures, then you know the heart-sweet benefits of distilling a favorite mood or landscape or memory down to a few important items.
Which leads us to ask this local question: If you were to compose a beautiful bell jar or terrarium around the idea of the Twilight Concerts at Santa Monica Pier, what would you add to your display? A handful of beach sand, perhaps? And a guitar pick to represent the acts on stage? Maybe you'd throw in a photo of a sunset, and a picnic napkin, and something that's the color of the sun, too.
Many of us know the iconic hallmarks of the Twilight Concert series, for it is one of the music-filled must-dos on the Southern California summer schedule.
The Scene
What to do, where to go and what to see
And it is back, for another gloriously free run beginning on Thursday, June 22.
Thursday nights and the Twilight Concerts are a longtime pairing, as close as two bits of sand on the beach, so you really only need to remember that fact, that Thursday is the go-to night, if you want to hit a few this summer.
Better yet: Keep "Friday eve" in your mind, to make the whole idea merrier.
One quick note? The series is taking July 6 off, so best not head for the pier, unless you want to ride the new Shark Frenzy, or the Pacific Wheel, or simply hang out in the waves.
As for the lovely, diverse, genres-aplenty line-up? Khalid is the June 22 opener, Warpaint rounds out the sounds on Aug. 17, and LEMAITRE, Marcia Griffiths, Eric Burdon and The Animals, Miami Horror, Valerie June and Irma Thomas, and Mon Laferte play between the two dates, with a bevy of excellent openers.
Tips on transportation are on the Twilight Concerts main online HQ. Because you can guess, with accuracy, that the whole parking deal is a challenge when droves of music fans are descending upon one single destination in an already hopping area.
Also? Loews Santa Monica Beach Hotel is right there, for any spend-the-nighters, as well as a bevy of other stay-over choices.
Summer officially opens the door on the evening of Tuesday, June 20, but it'll be just under 48 hours later, when the first notes sound at the Twilight Concerts, when many music mavens can firmly say that the season has arrived.
Copyright FREEL - NBC Local Media