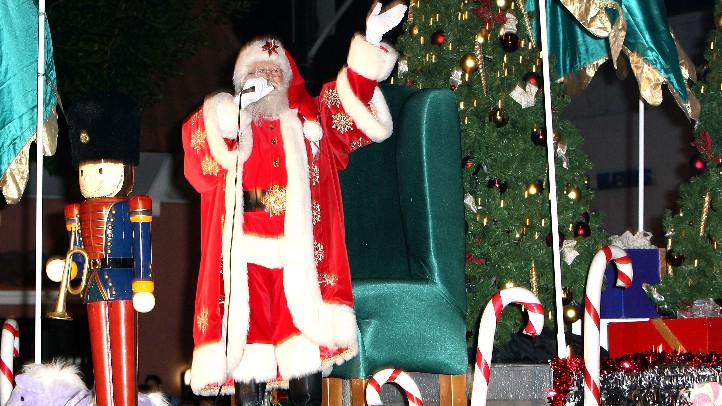 When people bemoan the fact that Old Hollywood -- the legend, the concept, the myth -- is gone, we feel like taking out a Power Point presentation or spreadsheet to politely show them the error in their thinking.
We'd point to Musso & Frank, yes, and the Pantages, and the studios, and Boardner's. And then we'd talk about the Hollywood Christmas Parade, which rolls down Hollywood Boulevard some time during the week of Thanksgiving. It's set to make merry again, in the heart of Hwood, for its 81st year, on Sunday, Nov. 25. Mr. Joe Mantegna is the Grand Marshal.
Yep, it's an event that has undergone some date changes over the years, and changes in fortune (outright cancellation has been on the table) and its name has evolved, too. But it still feels pretty small-town-y Tinseltown despite the eight decades it has weathered.
The Scene
What to do, where to go and what to see
Why? Let's start with celebrities sitting in the backs of convertibles. Anybody waving from a top-down car is a classic parade snapshot, but if they've been on a soap opera, a reality show, or in a film, that lends it the local stamp. The Hollywood Christmas Parade is very much associated with this sight, cheery famous people in scarves they may or may not actually need, depending on the balminess of the weather.
We also like that local schools send their bands to the boulevard, and their floats and equestrians, too. Can't get more charming or Main-Street-y than that, and we do appreciate that a town known for big effects and CGI can also decorate a float now and then. Quaintness, long may you reign, even in an age of movie-based eye-poppery and whizbang.
Santa makes a cameo, too. Which is right and good, seeing as how Hollywood films like "Elf" and "A Miracle on 34th Street" helped shape our modern Santa's image. (We hope he doesn't mind.)
Let's also mention that Sunset is on the route, in case you don't get onto the boulevard proper.
The parade rolls again on the 25th at 6 p.m. Get your info on curbs, grandstands, and all your get into and out of Hollywood need-to-knows.
Copyright FREEL - NBC Local Media