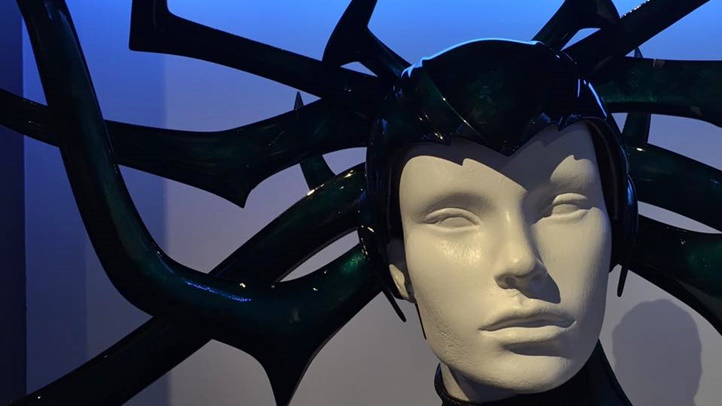 What to Know
Feb. 6 through April 7
Tuesdays through Saturdays
Free admission
Naming five film costumes that you can describe in detail?
Pshaw.
You can probably summon a couple dozen to mind without even trying, from Scarlett O'Hara's velvet green curtain gown to Dorothy Gale's blue gingham frock to the crisp bespoke tuxedos donned by James Bond over the years.
The Scene
What to do, where to go and what to see
But you don't have to search long-gone decades to find sartorial splendor on the silver screen. The year that just ended possessed a ton of panache in this regard, from the spangly skating togs of "I, Tonya" to the powerful Amazonian costumes of "Wonder Woman."
And the amazing antler headdress majestically donned by Cate Blanchett in "Thor: Ragnarok"? Absolutely unforgettable, as far as things we place atop our noggins go.
Even if you yourself never own an antler headdress from outer space, you're in luck, if you're in Southern California in the late winter and early spring. For that's when you can see, in person, those costumes recently featured on the big screen, at the annual Art of Motion Picture Design exhibit at the Fashion Institute of Design & Merchandising downtown.
As it has done now for 26 years, FIDM, along with the help of moviemakers and costume designers, is putting dozens of costumes on display, for free, for two months.
Costumes all seen in 2017 films, including the three mentioned above.
As is tradition, the line-up of wowza wearables from the film that won the Oscar for Best Costume Design at the previous Academy Awards also be featured in the exhibit. (That would be "Fantastic Beasts and Where to Find Them," with costumes by Colleen Atwood.)
The dates are Tuesday, Feb. 6 through Saturday, April 7, 2018, Tuesdays through Saturdays.
On the mannequins at the 2018 show?
Dresses from the fashion-fabulous "Phantom Thread," (Mark Bridges, Costume Designer), the futuristic clothing seen in "Blade Runner 2049" (Renée April, Costume Designer), and the Pennywise-eerie attire from "It" (Janie Bryant, Costume Designer).
"Lady Bird," "Star Wars: The Last Jedi," "Girls Trip," "The Beguiled," and "The Shape of Water" will all be featured as well.
And, indeed, all of the films named in the Best Costume Design category for the upcoming Academy Awards will have a presence in the extravagantly detailed, silks-and-taffetas display.
Make that silks-and-taffetas-and-clown-costumes display. Eek. Pennywise.
Again, this is free, but make sure you stop by on any day of the week but Sunday and Monday, when the exhibit is closed.
Copyright FREEL - NBC Local Media