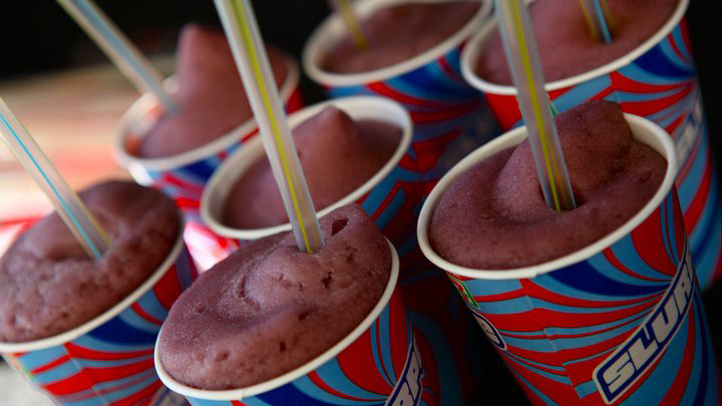 Don't even fib or tell tales or change the subject: We know that you, like everyone ever, owns a favorite cup or glass that is the best drinking/milkshake/milk-and-cookies cup in the world but has, let's be honest, seen better days.
Maybe it has cartoon characters on it, maybe the dishwasher partially ate it, but no matter: It's the most supreme liquid holder ever.
You'll want to polish that thing up, if preparing it for public view is even possible, and head for a 7-Eleven on Saturday, April 11. The convenience store supercompany is throwing its very first BYO Cup Day on that date, and if you ponder for half a second, we bet you can figure out what sort of liquid refreshment shall be going in those cups at area 7-Eleven stores.
The Scene
What to do, where to go and what to see
Did you guess "Slurpees"? You are for sure right. The frozen fruitastic brain-cooling sweltering-summer-day-bettering beverage is the 88-year-old chain's most well-known product, a drink that's seen a rainbow of flavors over the decades and the increasing of cup sizes, too.
But if you want to go bigger -- much bigger -- than the available cups sizes for your BYOCup Slurpee on April 11? That's your choice. If you want to go far smaller, and put a dainty ounce or two in the flowery teacup your grandmother gave you? Do it.
Either way, the price'll roll in at a buck forty nine, which is the "average cost of a medium Slurpee drink."
Just be there with your dollar and change between 11 a.m. and 7 p.m. at a participating 7-Eleven on April 11. And remember your favorite cup or mug or the lumpy vase you made for your mom in the third grade.
For sure, some cups will be on the very very VERY large size, if they can be deemed to be "cups" at all. We will raise an eyebrow, though, if some jokester shows up carrying a kid-sized plastic backyard pool.
Like the Death Star was no moon, a giant plastic kid pool is no cup, people.
Ultimately, though, there's no judging what cups we love in this life, be they slightly mangled or time-tested or faded. But let's just put this out there right now: We can all agree that any Slurpee that is cherry-flavored, in any combination with any other fruit, is the best Slurpee.
Ohhh, fighting words, we know. Slurpeople -- which are Slurpee fans, of course -- have their must-have flavors and that is that. Understood.
Variety keeps the world interesting, and a beloved mug or cup is a choice way to enjoy an iconic, straight-from-childhood drink on a nice spring afternoon.
Copyright FREEL - NBC Local Media