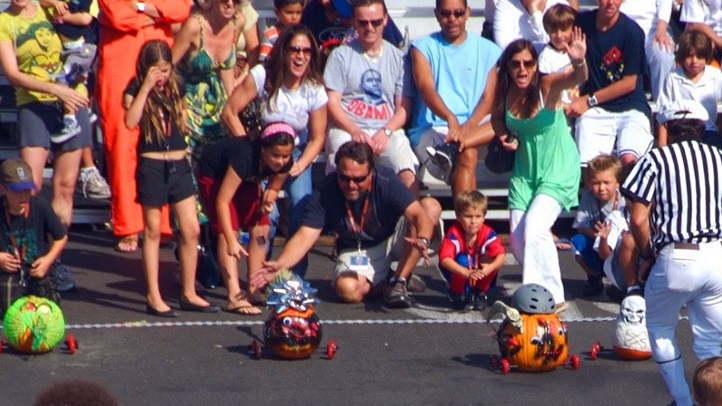 What to Know
Oct. 28 at 11 a.m.
Manhattan Pier
Free
How fast does a pumpkin move?
If it is a small pumpkin, say a Jack Be Little, it can tumble off your front step in a matter seconds. If it is pumpkin that's inside a piece of pie that's on your fork, it can head in the direction of your mouth in a flash.
And if you're participating in the time-honored tradition of pumpkin bowling? Goodness, can those gourds roll at a considerable clip, depending the arm-oomph you deliver.
The Scene
What to do, where to go and what to see
But racing pumpkins, such as the ones seen in the annual Pumpkin Race at Manhattan Beach Pier, are a whole other marvel-filled matter. These seed-packed competitors have wheels, which do quite a lot, we needn't tell you, in the whole sending-the-squash-forward-and-fast department.
If you've never witnessed such a thing, you're in some kind of lucky luck. Just find your way to the course on Sunday, Oct. 28, before noon, preferably, and then cheer on the colorful and decorated pumpkins as they hurtle for the finish line.
There's lots to know about this tradition, including the fact that there's some good-spirited, um, creative winning that may or may not go down (yes, cheating).
And if a Cheater Pumpkin is caught in the act? The Mallet-O-Justice will fall upon it, sending seeds hither and yon.
It's quite the crowd-pleaser, understandably.
There are other good-to-knows, like where to buy a Pumpkin Race Kit, the rules of the race, and such.
No need to jump in and compete right away if you've never seen pumpkins on the go, go, go. Just visit the squashy scene and observe what goes on, before plotting what sort of superstar pumpkin-based vehicle you'll construct in 2019.
Copyright FREEL - NBC Local Media