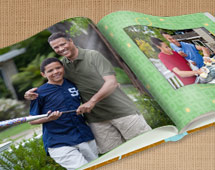 What to Know
Sunday, June 17
Rodeo Drive, The Paseo, Boomtown Brewery, Santa Anita
Prices vary, but Concours and Chalk Fest are free
Spending time in the sunshine with your pops?
It makes sense, especially if sunbeams and breezes might inhabit some of your very first memories of days with your dear dad. And such beams and breezes may also inhabit your current time spent with your father, if the two of you like to hike, surf, or eat a meal without a roof or walls nearby.
The Scene
What to do, where to go and what to see
There are plenty of Father's Day happenings around Southern California that are all about indoor restaurant meals and special spirit tastings, but if you're craving a day spent under the sky, all in his honor, look to a number of places doing it up, alfresco-style, for the holiday.
Those include...
Santa Anita Park: What's that in the infield? It's a Family Fun Zone, oh yeah. Look for several large-scale inflatables, plus "face painting, rock wall, and carnival games to pony rides." A Family Fun 4-Pack is $46 and includes hot dogs, carnival vouchers, and more. Where to go? The Arcadia horse landmark, of course.
Boomtown Brewery: The downtown brewhouse is going all out on Father's Day afternoon, and by "going all out" we mean the brewery is setting up mini putt-putt, a bouncy house, a petting zoo, and a place to have your face painted. Shall there be BBQ for purchase? It doesn't seem like Father's Day without it.
Angel City Brewery: Are you and your dad both over 21? Do you dig live music? Head for the Arts District Brewery & Public House for an afternoon of bands and a pop-up shop from The Bad Dads Club. There shall be food for purchase and interesting brews, like Batch 3 from the brewery's Sunbather series (think "bright" and "tropical").
Irvine Park Railroad: Heading for the Orange attraction, which boasts one of the coolest kid-cute railroads around, as well as a host of other happenings around the shady park area? Look for "exclusive offers just for dads," as well as a sweet Father's Day out.
Rodeo Drive: It's the 25th anniversary of the famous Rodeo Drive Concours d'Elegance, and three blocks of the iconic Beverly Hills thoroughfare will be filled with dozens and dozens of top-notch dream cars. The theme? The color silver, in tribute to the anniversary. The June 17 event is totally free, as always.
Pasadena Chalk Festival: And speaking of free admission, this biggie, which has been a Father's Day favorite for over a quarter century, is on now at The Paseo. Eye hundreds of on-the-ground artworks, see a police car show, and get to know the chalk-wielding artists who are creating the look-down masterpieces, on June 17.
Of course, there are thousands of other outdoor places, literally, you can head around our vast region, from the beaches to the parks to trails in the hills to the Annenberg Community Beach House pool, which is now open daily, to Snow Valley Mountain Resort for some high-elevation downhill mountain biking.
Happy Father's Day!
Copyright FREEL - NBC Local Media