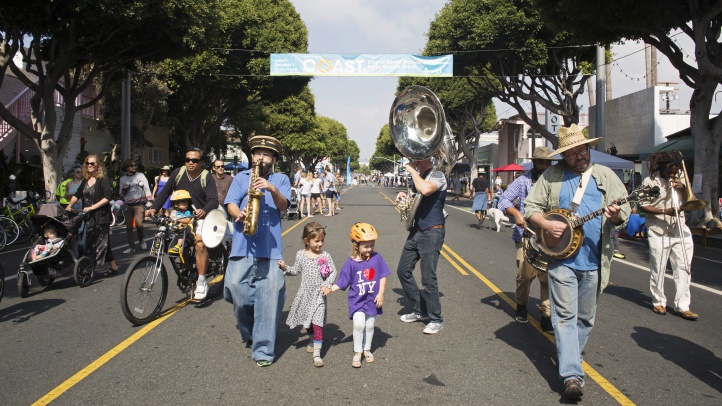 What to Know
Sunday, Oct. 7
10 a.m. to 4 p.m.
Segments of Ocean Avenue, Colorado Boulevard, and Main Street
The question of "where do you want to meet?," when deciding to cycle or stroll with a pal, can be a tricky one, involving the time of day, potential places for snacks or beverages, and the general vibe of the path you want to take.
But it is a question that gets rather easier when there's an open streets event ahead, and it happens to be one that's but a block or two from the beach, and it happens to be one that is going to occur on a not-hot, not-cold fall Sunday.
The Sunday we speak of is Oct. 7, 2018, and the beach-close blocks stretch out along sizable portions of Ocean Avenue, Colorado Boulevard, and Main Street in Santa Monica.
The Scene
What to do, where to go and what to see
It's the COAST Open Streets Event presented by Metro, and it is celebrating "Art, Sustainability + Mobility" as well as that authentic community spirit that arises from such happenings.
Price? Prepare to feel a grateful zing: It's free, in the tradition of open-streets-y celebrations.
The hours? Ten o'clock is the start time, 4 p.m. is when it all bye-byes, and you're welcome to show up at any point of that six-hour run, at any point of the route, to savor being in a totally car-less street.
Cycling, skating, and sauntering are encouraged, but if you want to cartwheel for awhile, why not?
You do you.
Do pause, though, now and then, to admire the "large-scale art installations and activities," and if you spy a food truck, or a local restaurant you love, stop in, order, pay, and nosh, all to keep your forward-movement on the go, go, go.
Interactive percussion, The One Hundred Foot Table (a spot to "make connections" with artists), and other whimsical sights will festoon the breezy, come-one, come-all bash.
Winter will be here soon, and while we're a drift-less metropolis, and generally light on the snow scene, major outdoor events like this one tend to press the pause button for a few months.
So soak in the last of summer now, on a cool autumn day, along a trio of great Santa Monica byways.
Copyright FREEL - NBC Local Media