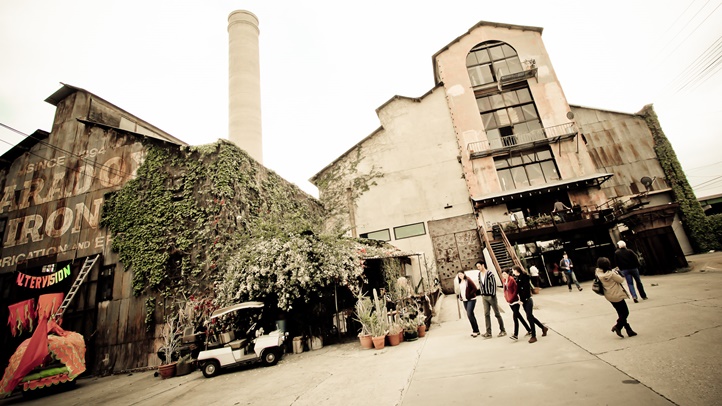 What to Know
April 7 and 8, 2018
See 100+ galleries for free
2100 N. Main Street
Peering through the gates or gazing above the walls and buildings of a cool and creative community that you don't live in but admire so very much?
It can feel a bit like wondering what's inside the magical candy factory, without having the requisite ticket to enter.
But every so often, the proverbial (and real) gates creak open at The Brewery, the close-to-the-5 spot that's billed as "the world's largest art complex."
The Scene
What to do, where to go and what to see
This is no poetic license: Hundreds of artists live and/or work within the atmospheric, sometimes rambling, highly historic, beautifully visual structures and spaces.
And sometimes, as in twice each year, as in the spring and the fall, those artists and the complex as a whole welcome the public, for free, to see art, to talk to painters, sculptors, weavers, and the creative caboodle, and to enjoy a day of looking, idea-bonding, and spirit-raising enjoyment.
The name? The Brewery Artwalk.
And those coming-right-up dates are Saturday, April 7 and Sunday, April 8.
"The creative caboodle" hardly sums it up, so here's what you'll see and enjoy: ceramics, printmaking, performance, installation, mixed media, fashion, jewelry, and more.
"More" isn't nearly a long enough word to encapsulate all of the "more" you'll see during the seven hours you're there. We should just be clear on that, right now.
The artwalk is on from 11 a.m. to 6 p.m. each day, and we're guessing that you'll be there for the full seven hours on the day you choose to go. There's a lot to take in, and so much to linger over, so maximizing your hours, and making sure you don't miss anything that might speak to you, is key.
In fact, with 100-plus studios participating, the organizers wisely suggest visiting The Brewery over two days. Also good advice, if you have the time and are so inclined.
Good to know? There's a restaurant there — Barbara's at The Brewery — and food and beverage options in the central courtyard area. Plan to do lunch or grab snacks to keep your art-admiring skills sharp, and your tum sated, as you adventure around the "world's largest art complex."
Again, quite the poetic concept, but not poetic license. It's just that amazingly big.
Copyright FREEL - NBC Local Media