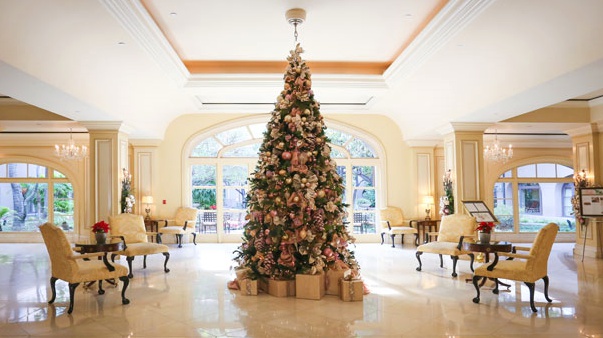 What to Know
Winter Festival
Sunday, Nov. 25, 4 to 7 p.m.
$15-$45
Think up all of the places you know that truly gussy it up, each late November and December, in terms of decorating for the holidays.
Your neighbor's house, the one with all eight reindeer, plus Rudolph, on the roof? Yes, that counts. Theme parks? Indeed, and elaborately so. The local mall? Shopping centers do decorate, for sure.
A hotel?
The Scene
What to do, where to go and what to see
That, of course, depends upon the property, but you can cheerfully count on many decades-old landmarks, the grand doyens of the hospitality industry, to go the dazzling distance where the hanging of the holly is concerned.
Look to the Langham Huntington, Pasadena for such a sophisticated spin on the sparkliest season.
Come the close of the year, a visitor to the hotel, which marked its centennial in 2014 (though its structure's story stretches back even further than 1914), will spy trees, teas, and the special details that flower, like poinsettias, come the holidays.
First up? A Winter Festival, on Sunday, Nov. 25. The late afternoon gathering will raise money for Elizabeth House, "an organization committed to ending the cycle of homelessness and abuse in women and children."
It's part of The Langham's Heritage with Heart series. Also included in the three-hour happening? A tree lighting in the Horseshoe Garden, a Santa sighting, and an appearance by the Lythgoe Family Panto. Tickets are available here.
But the festooning of the festive season continues beyond the Winter Festival.
Reservations are open for the popular Teddy Bear Teas, which include puppet shows, storytelling, and, you bet, snapshots with Santa.
Kids can snack on sandwiches made just for them, cookies, cocoa, and other goodies, while the adult guests will be treated to The Langham's Signature Afternoon Tea with Wedgwood.
A donation of a toy? That's the kind-hearted request, so be sure to bring one to the tea, a toy that's unwrapped.
Elegant holiday meals, such as on Christmas proper, are a classic part of the hotel's yuletide observances. New Year's Eve, too, will waltz into the handsome hotel with bells and baubles on, ready to get 2019 started.
For all the details on The Langham Huntington, Pasadena's big and bright Christmas season, head to the hotel's Holiday Events page now.
Copyright FREEL - NBC Local Media