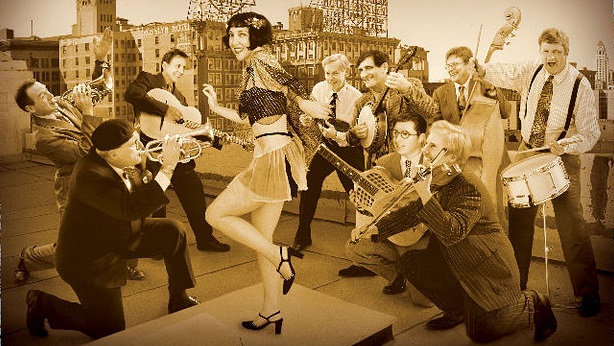 If anyone tells you you can't rock fabulous '20s-era fashions whenever you please, just tell 'em "horsefeathers!" in retort.
And if someone should say you can't whoop it up to songs of long ago, inform them that's total "applesauce" (same general meaning, yep).
And if anyone says you're the "bee's knees," well, invite them at once to The Roaring Twenties Street Jam at the Griffith Park Merry-Go-Round. Clearly they're rhapsodic over the long-ago slang, and styles of dress, and musical ditties, and more, and that's just the sort of vibe that'll be humming around the annual gussy-up and dance it up weekend.
The Scene
What to do, where to go and what to see
There are a few moving (and moving) parts to the Saturday, Sept. 24 and Sunday, Sept. 25 celebration, including dance lessons with sublime performer Ksenia Parkhatskaya at the Fred Astaire Dance Studio in Pasadena (those happen on both weekend afternoons, with a Saturday evening dance).
Sunday shimmers with a couple of different happenings, including the new Jazz Age Lawn Fest at Griffith Park. Best "dress to IMPRESS!" (ponder a boater hat or glittery beaded gown) and pack a picnic. There shall be era-sweet tuneage, and more bee's-knees-ian pleasures, upon the grassy area near the carousel.
And later that evening? The whole brassy shebang that ends the weekend, a dance at the Griffith Park Merry-Go-Round, complete with live performances from Janet Klein & Her Parlor Boys. A Speakeasy Wine Garden, a dance-off competition, a contest spotlighting the best dressed, and more doings that are positively "berries" are on the stylish schedule.
The Sept. 25 Griffith Park party is a solid one, stretching from noon to 9:30 that night, though you can just attend the lawn lark if that's your pleasure or the nighttime dance.
Best look into a ticket, though, before placing that sequin headband in your hair and Brylcreeming your mustache, because this growing event has panache and cachet, both. (Meaning tickets'll fly like pie, which isn't an actual '20s saying but sounds like it maybe could be.)
Copyright FREEL - NBC Local Media