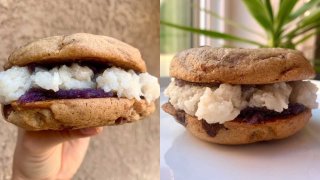 What to Know
Chocolate and the Chip
Available at a Boomtown Brewery pop-up on Saturday, July 17
Pre-order for $6; limited supply, so do order ahead of time
Sticky rice?
It's one of those rare wonderfoods that makes for a beautiful breakfast (just top it with a poached egg, if you like), a perfect lunch (include sautéed veggies), and delicious dinner (plain, sauced, or paired with spicy tofu, sticky rice is a marvel).
But dessert? That's when rice really sings.
Sweet spices, a pinch of sugar, and practically anything found along the baking aisle can transform a bowl of sticky rice into the ultimate ambrosial experience.
Look to Chocolate and the Chip, those LA-based inventors of quirky cookies, offbeat bites, and a luscious brown butter. They've been pondering the many sides of sticky rice, and have decided to include it in a delectable cookie-focused confection.
And when we say "include it," the sticky rice is at the squishy center of an old-school chipwich.
But this chipwich isn't too old-school: The chocolate chip cookies include brown butter, giving the doughy delights a deeper flavor, while ube jam helps the sticky rice stick to the cookies, all while adding the particular oomph that only ube can deliver.
The cost for this memorable munchie? It's six dollars.
Where to find it? At Boomtown Brewery in the Arts District, where a Chocolate and the Chip pop-up will pop up on Saturday, July 17.
Wait, though: You'll want to pre-order your Sticky Rice Chipwich ahead of time, as they're quite limited supply (and we mean that "quite" quite strongly.)
You can do so through the artisanal cookie company's site, but be prepared: Several sweets on the order page may tempt, including a gooey-middled Salted Caramel Espresso cookie.