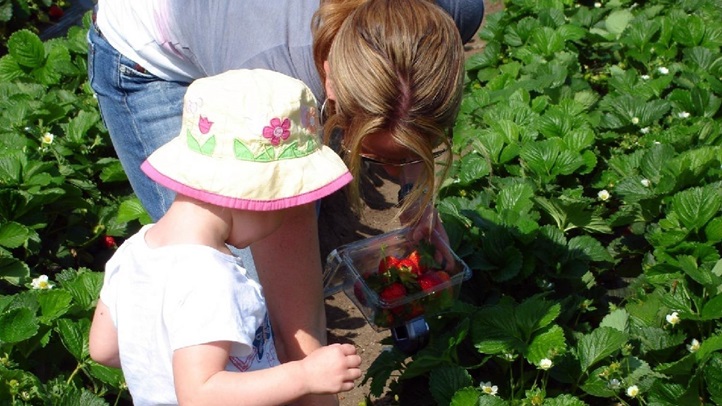 Giraffe aficionados around the planet are keeping watch on the Animal Adventure Park live cam, all to see when park resident April might give birth.
It's thrilling and sweet, completely, and a true social media phenom.
And it is thrilling to know that such sweet, springtime-perfect sights are also happening closer to home, in Moorpark, at Underwood Family Farms.
The Scene
What to do, where to go and what to see
The agricultural, pick-your-own-vegetables destination just opened for the season at the beginning of March, but that's not the only new thing happening at the old-fashioned animals-and-crops spread; several babies have been born in recent days at Underwood.
Let's count these cuddlebuns down, with the help of a March 6 Facebook post. Some "...11 Pygmy goats, 7 piglets, 1 sheep (Somis), and dozens of baby ducks and chicks..." have entered the world over the last week at the farms. (Indeed, Underwood has a Somis outpost, which is where the wee lamb arrived.)
Good thing that the Moorpark family favorite opened on March 1. Not only can you stop by and see these bitty birds and wee piglets toddling about, you can pick your own beets and cauliflower and grapefruits and strawberries, not to mention loads of other vegetables and fruits that grow there.
That's right: Pick Your Own season is in full swing in Moorpark, but your best bet, to make sure your go-to edible is ready to leave the ground and go in your basket, is to check the "This Week" rundown on the Underwood site.
Also, the Crop Calendar gives a solid look at what's ahead, picking-wise.
Want to visit the Farm Center? Admission is $3 on a weekday, $6 on a weekend. Any veges or fruits you pick will be weighed before you purchase them. And as for squealing over newborn chicks? That's completely gratis.
As of this typing, April, the world's most famous giraffe, still has not given birth. If you can't stand the suspense, and need an immediate way to coo over just-arrived baby beasties, make for Moorpark to celebrate spring.
Which, of course, isn't quite here yet, officially. Nor is Underwood's mondo Spring Easter Festival, which is on from April 1 through 17, 2017.
Will more infant animals continue to arrive at the farm-sweet nursery? It is, after all, the time of year, traditionally, for teeny barnyard denizens to make their heart-tugging, hello-world debuts.
Copyright FREEL - NBC Local Media