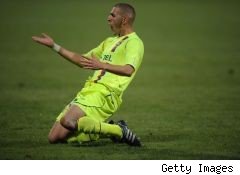 What to Know
July 28 and 29
$13.50 adult, $9 child (3-11)
All-you-can-eat watermelon, yum
Approaching an all-you-can-eat opportunity can stir up plenty of feelings, including those that deal with tempering ourselves and halting our noshery before we need to loosen the ol' belt.
But sometimes an all-you-can-eat event delivers a fruit that, if it isn't lighter than air, feels as though it won't weigh us down for the remainder of the day.
Unless, of course, we partake in too many seeds or a chunk of rind.
The Scene
What to do, where to go and what to see
It's watermelon, of course, that we speak of, that superstar of high summer, and the green-outside, red-inside fruit of honor at the long-running California Watermelon Festival.
A festival which is nearing its six-decades-along mark, an amount of time you wouldn't dare spit seeds over.
The two-day festival, which brings that crunchy-watery wonder that is the watermelon to Hansen Dam on Saturday, July 28 and Sunday, July 29, is ticketed, so nab your entry for $13.50.
That's the adult price, while kids ages 3 to 11 may enter for $9.
The sure-to-draw-a-crowd centerpiece of the weekend? Watermelon Skiing. It's where you put two mostly-hollowed-out watermelons on your feet, hold onto a rope, and, fingers crossed... "ski" over several feet.
If that isn't your bag, there are other happenings, from a culinary pavilion to live tunes to stuff for kids to do.
All the action, including some very damp snapshots of brave souls attempting watermelon skiing? Stick two melons on your tootsies and ski over here, now.
Copyright FREEL - NBC Local Media