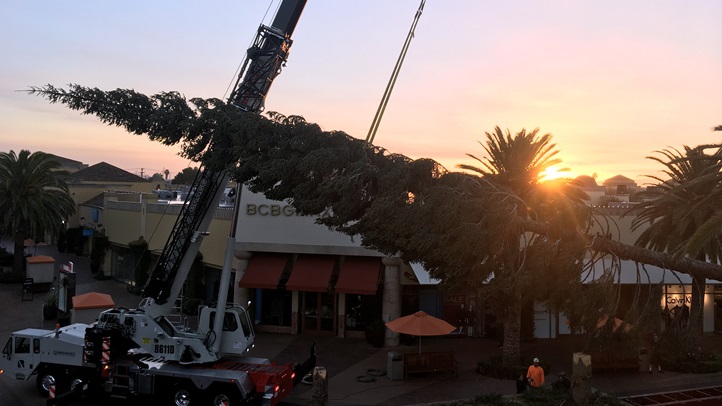 A big, glittery bow can serve as the holiday-happy harbinger for a multitude of still-to-come things.
A bow may indicate that the package beneath it holds a hoped-for item, the one at the top of your wish list. A bow might also sit atop unwrapped gifts, such as bikes, adding color and pizzazz to the present you wanted most.
And sometimes a bow, if it is very, very ginormous — the most ginormous bow on the planet, in fact — can accurately foretell that an equally jumbo Christmas tree, the "World's Tallest Live-Cut Tree," is on its way and ready join the huge ribbon in a symphony of seasonal wonder.
The Scene
What to do, where to go and what to see
Such a decoration did tell the pine-scented future, quite recently. It was the behemoth of a bow that was carefully placed, by heavy machinery, on the roof of the Citadel Outlets on Tuesday, Oct. 11.
It's the "World's Largest Bow", don't you know, and it can be seen, all a-sparkle and a-twinkle, from a good piece down the 5 Freeway, where the historic building is located.
Joining the gargantuan gift-topper as of Tuesday, Oct. 18? A tree straight from the Shasta-Trinity National Forest.
Again, major machinery helped erect the towering plant, which stands at 115 feet tall.
Next up? The branches will be securely re-placed up the tree ("the branches are removed so the tree can travel safely on streets and freeways," is the reason behind that).
Victor's Custom Christmas Trees did the sourcing on the superstar shrub, a tree that "spans longer than an NBA basketball court." And is it as tall as the Hollywood Sign? Actually, it is "more than twice" the height of one of the iconic hillside letters.
The shopping center reveals that the tree "was near the end of its lifespan," and its removal from the woods "frees up forest space for smaller trees and keeps the forest healthy."
Additionally, a dozen trees will be planted in the area where the titan once stood.
As for its big lights-on moment? That arrives on Saturday, Nov. 5, along with a flurry of fa-la-la-ing and various entertainment presentations.
Note that while the bow is easily seeable from the interstate, only the top of the tree may be discerned from the 5. Head inside to see the whole branch-laden fir, an early harbinger of the holidays to come (much in the way that the bow was the harbinger of the tree).
The yuletide? It's on the way, say the huge symbols of the SoCal season.
Copyright FREEL - NBC Local Media