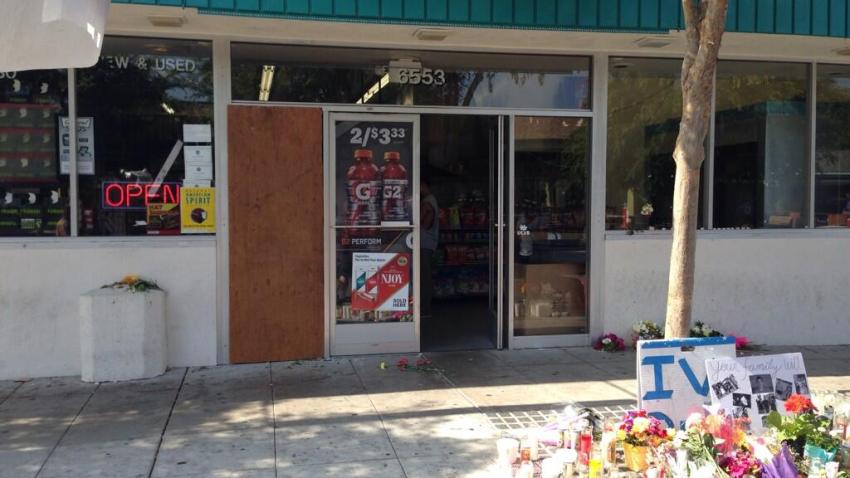 In relatively quiet Santa Barbara County, the news of a mass shooting has rocked the normally quiet seaside communities and their large student community.
In Isla Vista, a seaside town known for its college parties and sunshine, residents were shocked by the lone gunman's shooting spree.
"You always think, 'Oh, that doesn't happen to me, that doesn't happen in my town. That's always just something on the news.' But that did happen and it's just, like, very overwhelming," said Jeff Dolphin, roommate of 20-year-old victim Christopher Ross Michaels-Martinez. "A lot of shock hasn't even settled. This morning was like a complete haze. Not a lot of sleep last night for anybody."
An unincorporated community, it's a dense half-square-mile of mostly cheap apartments that 13,000 - out of a population of just 23,000 - students from the area's two colleges call home.
The primary off-campus housing spot for students from UC Santa Barbara and City College of Santa Barbara, the tiny beachside town doesn't have much of a commercial district - just a couple of pizza places, bars and cafes dotting the landscape.
Most weekend nights students wander the streets from house party to house party, red plastic cup in hand. The local sheriff's department floods the streets with additional deputies to hand out the thousands of drinking in public citations issued each year.
It's known as a fun place for the 18 to 24 crowd, many living on their own for the first time. In recent years, it has attracted unwanted attention after a string of sexual assaults during weekend parties and after a riot broke out after a boozy day-long festival in April.
But a gunman's rampage Friday night took everyone by surprise.
"We heard gunshots and ducked under the table," said Zelina Bochesa, a senior at UC Santa Barbara who was eating with friends at local staple Pizza My Heart. "A girl and her boyfriend said they were shot at, that somebody in a BMW pulled up and started shooting at people."
When she returned home a few blocks away, Bochesa saw investigators outside her house as well.
A gunman opened fire at nine different locations throughout Isla Vista, killing six people and injuring seven others from behind the wheel of the black BMW coupe he later crashed during a gun battle with deputies. He was found dead in the car, with a gunshot wound to the head.
The suspect was identified as 22-year-old Elliot Rodger by sheriff's officials.
The man opened fire in front of the Alpha Phi sorority house, and two girls were killed on the front lawn.
He shot at the IV Deli Mart, where flowers now lay on the ground, along with blood from a victim and the towels people used to help him.
There are always added patrols of Isla Vista on the weekend, Sheriff Bill Brown said at an overnight press conference, and they were able to stop the gunman, but not before he killed six people and injured seven others.
The mass killing comes 13 years after a former UC Santa Barbara student drove his car through a crowd of people in Isla Vista, killing four. David Attias was convicted on four counts of second-degree murder and sentenced to a state mental hospital.