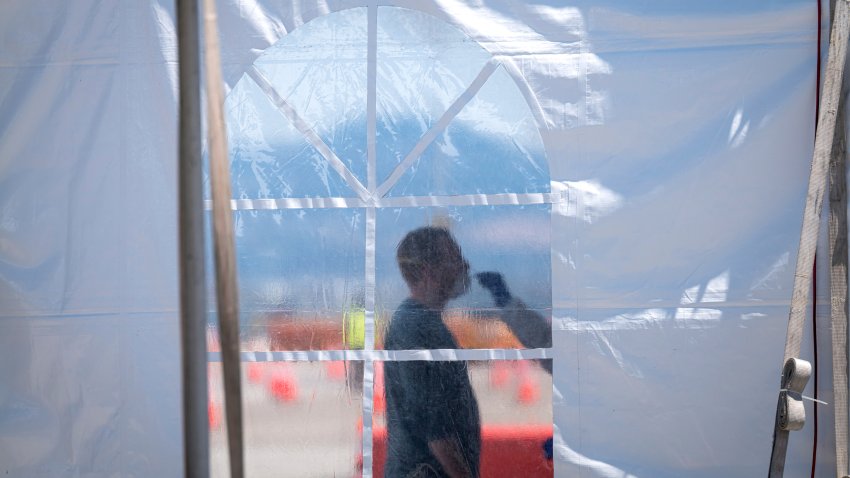 Stay-at-home orders issued in mid-March were gradually relaxed during the spring, but spikes in key statistics meant California tightened its virus restrictions in July during a summer like no other.
Updates on the spread of COVID-19 and California's response can be found here. You also can view daily updates from the governor's office at noon.
Indoor Operations to Resume at Salons and Barbershops
Hair salons and barbershops will be allowed to reopen for limited indoor service in Los Angeles County, with the county announcing Wednesday it will bring those businesses in line with recently amended state coronavirus reopening guidelines.
Newly Passed Bill Could Be in Jeopardy
Hundreds of newly passed California bills could be in jeopardy after most of the Republicans in the state Senate were forced to vote remotely for several days because of the coronavirus. The legally untested procedure was just one part of a frenzied final day for the California Legislature Monday. It included cursing from quarantined lawmakers, a tense standoff over muted microphones and a lawmaker forced to bring her crying baby on the floor of the state Assembly. Democratic Assembly Speaker Anthony Rendon said the year's legislative session was disappointing. It was cut short because of concerns about the coronavirus pandemic, and last week Sen. Brian Jones tested positive for the virus, exposing most of his Republican colleagues.
How Coronavirus Has Grown in Each State — in 1 Chart
This chart shows the cumulative number of cases per state by number of days since the 50th case.
Source: The COVID Tracking Project
Credit: Amy O'Kruk/NBC
LA County Votes to Expand Worker Protections
The Los Angeles County Board of Supervisors voted to expand worker protections, possibly creating an Office of Labor Equity. Supervisors Mark Ridley-Thomas and Sheila Kuehl recommended the new office as a way to centralize worker protection initiatives. It would be charged with promoting and enforcing county labor laws on minimum wages, for example, handling disputes and leading policy research and development with a focus on racial, health and economic equity.
What's Next for Orange County?
Even if trends continue in a positive direction, the earliest Orange County schools can reopen for personal instruction is Sept. 22, two weeks later than local officials were hoping for, according to state public health officials. The county falls within the state's new ``purple tier'' of counties for COVID-19, the worst level, but is on the verge of being upgraded to the next tier -- red. Monday was the county's ninth day off the state's monitoring list.
LA County Tuesday Updates
Despite downward coronavirus trends, Los Angeles County health officials are stepping up their campaign against public gatherings over the upcoming Labor Day holiday, fearing spikes of the type that followed previous national holidays. The county Department of Public Health reported another 45 deaths due to the virus on Tuesday, while Long Beach reported one additional fatality. The new deaths raised the overall total since the start of the pandemic to 5,830. The county also announced another 840 new coronavirus cases -- a rare dip below the 1,000 mark.
Riverside County Tuesday Updates
Another 244 coronavirus cases were confirmed in Riverside County, with seven additional deaths attributed to complications stemming from the virus, but an official told the Board of Supervisors that hospitalizations have been on a downward trend.
Coronavirus Hospital Use Projections Across the Country
This interactive chart uses model data provided by the Institute for Health Metrics and Evaluation to predict how the coronavirus will affect health care resources in different states. In states such as Florida and California, hospital bed use is projected to continue to grow into September and October. Most states have enough general hospital and ICU beds to meet demand, according to additional data from The Associated Press.
Sources: State hospital bed capacity data from the Associated Press. Model data provided by IHME. Note: The model assumes mask use continues at currently observed rates and the gradual easing of social distancing mandates continues. It also assumes the mandate would be re-imposed for six weeks if daily deaths reach 8 per million.
Credit: Amy O'Kruk/NBC
White House Reopening Guidelines Leave Room for Interpretation
For states considering lifting quarantine measures, the official guidelines propose either a downward trajectory of COVID-19 cases within two weeks or a downward trajectory of positive tests as a percent of total tests.
As shown below, when you compare yesterday's new case count with that of two weeks ago, the number is often lower, simply because the counts fluctuate. The criteria has been criticized by some for being vague, creating the opportunity for any governor to argue the numbers are favorable enough to start reopening.
Source: The COVID Tracking Project
Credit: Amy O'Kruk/NBC
Coronavirus Deaths in Your City and State — and Across the US
These charts use daily coronavirus death data from Johns Hopkins University to show the seven-day moving average of deaths at the city, state and country level.
The impact of coronavirus varies enormously in the United States from one place to another.
Source: Johns Hopkins University.
Credit: Visuals by Amy O'Kruk/NBC, data analysis by Ron Campbell/NBC
The Ebb and Flow of New Coronavirus Cases and Deaths
The graphs below illustrate the distribution of new coronavirus cases and deaths in the U.S. While New York accounted for the lion's share of new cases and deaths in March and April, its numbers have declined in May as some states have increased. Hover or tap to see new daily cases and deaths across the country. States with the most are ordered top to bottom.
Source: The COVID Tracking Project
Credit: Amy O'Kruk/NBC
Copyright AP - Associated Press