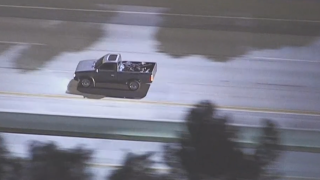 A driver is in custody after a high-speed, wrong-way pursuit through the San Fernando Valley Sunday night.
The driver of a dark colored pickup truck was seen driving at about 80 miles per hour on the highway.
The California Highway Patrol was chasing the vehicle through the Antelope Valley and the Santa Clarita Valley.
The driver got off the highway in the San Fernando Valley and continued onto surface streets, nearly missing other vehicles and driving in the wrong direction.
The pursuit came to an end on Burbank Boulevard and Hayvenhurst Avenue in Encino.