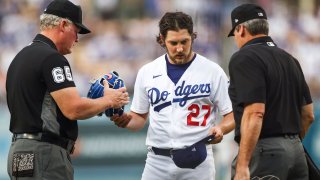 [Editor's note: This story has been updated with a statement released by Trevor Bauer's co-agents, comments by the Dodgers, and an update on the criminal investigation from the Pasadena Police Department.]
Dodgers pitcher Trevor Bauer has been placed on administrative leave as the league conducts an investigation into assault allegations against the reigning NL Cy Young Award winner.
In a statement, the league said he was placed on a seven-day administrative leave.
"MLB's investigation into the allegations made against Trevor Bauer is ongoing," MLB said. "While no determination in the case has been made, we have made the decision to place Mr. Bauer on seven-day administrative leave effective immediately. MLB continues to collect information in our ongoing investigation concurrent with the Pasadena Police Department's active criminal investigation. We will comment further at the appropriate time."
NBCLA reached out to the team for comment and were told that all comments on MLB's decision will be said by either manager Dave Roberts or President and part-owner of the Dodgers, Stan Kasten on Friday from D.C.
"We all have personal views. But for now ... the way it is being handled professionally by the commissioner's office ... I trust that process to get us where it needs to go," said Kasten in-person to reporters at Nationals Park. "I know what has been in the public domain. Apparently there's plenty more information that I have not been told, that I am not privy to, that I do not know anything about. And so I'm going to wait till all of that fact-gathering is complete and the decision was made."
Kasten went on to say he would have no further comment on Bauer until both MLB's investigation, and the legal process concludes.
Local
Get Los Angeles's latest local news on crime, entertainment, weather, schools, COVID, cost of living and more. Here's your go-to source for today's LA news.
Later, speaking via Zoom in his regularly scheduled pregame press conference with the media, Dodgers' manager Dave Roberts said that because he was placed on administrative leave, Bauer is no longer allowed to be around the team, and that his spot on the roster would be replaced by relief pitcher Brusdar Graterol.
"I think this is where we were at yesterday. I was in a position to not say anything because MLB was still dealing with it and they did," said Roberts about MLB's decision to place Bauer on administrative leave. The Dodgers are going to support whatever decision MLB makes. We're focusing on tonight, but we also need to figure out Sunday, and we're trying to figure that out as well."
Bauer was originally scheduled to start on Sunday on the Fourth of July at Nationals Park in the nation's capital. On Thursday, Roberts said that Bauer was still slated to make that start as the MLB had advised him to "proceed as normal." However, with Bauer now placed on administrative leave and away from the team, Roberts said that he expects Sunday, as well as Bauer's next turn in the rotation next Friday, to both be bullpen games.
The league's decision was announced just after the World Series champs visited the White House to meet with President Biden and Vice President Harris.
"It exceeded all my expectations," Roberts said of the White House visit. "Spending time with the president and madame vice-president...it was fantastic!"
Police in Pasadena are investigating claims by a woman who has also obtained a protection order against Bauer, according to her attorney. Jon Fetterolf, Bauer's co-agent, has disputed the allegations.
Players can be suspended without being charged with a crime under MLB's domestic violence policy, which was collectively bargained. Teams cannot enforce discipline unless the league approves.
Manager Dave Roberts said he has spoken with Bauer but would not share details of their conversation. He also declined to comment on multiple follow-up questions.
Bauer emerged from the Dodgers clubhouse and hopped onto the field pregame Thursday just before 5 p.m. He threw in right field before gathering his things in the bullpen and returning to the dugout. Bauer swiftly walked past reporters, down the dugout steps and back into the clubhouse when asked to comment.
A hearing in Bauer's case is scheduled for July 23.
The protection order was obtained under the Domestic Violence Prevention Act and was the result of an "assault that took place at the hands of Mr. Bauer" where the woman "suffered severe physical and emotional pain," attorney Marc Garelick said.
Fetterolf disputed the allegations that Bauer committed any nonconsensual violence. He said Bauer met the woman in April, and the two had "a brief and wholly consensual sexual relationship initiated" by the woman.
After the news of the MLB's decision, Jon Fetterolf and Rachel Luba, Trevor Bauer's co-agents released a statement:
"We reaffirm our original statement and refute [the woman's] allegations in the strongest possible terms. Mr. Bauer will not appeal MLB's decision to place him on administrative leave at this time in an effort to minimize any distraction to the Dodgers organization and to his teammates. Of note, administrative leave is neither a disciplinary action nor does it in any way reflect a finding in the league's investigation."
In regards to the criminal investigation, the Pasadena Police Department told USA Today that the nearly six-week ongoing investigation "is bigger than we thought."
"We were looking into some things and we thought we were nearing the end,'' Lt. Carolyn Gordon, who is overseeing the investigation, told USA TODAY on Friday. "We are not close to the end. This investigation is bigger than we thought. So we have to look a few more places. We want to try to uncover as much stuff as we can.''
Bauer is 8-5 with a 2.59 ERA this season for Los Angeles. He signed a three-year, $102 million deal with the Dodgers in the offseason.
When asked if Bauer's situation could potentially damage the clubhouse chemistry or become a distraction for the players in the locker room, Roberts had this to say:
"I'm not worried about the guys in the clubhouse right now," said Roberts. "There's a lot of things that take place that are out of guys control. We will focus on staying together and winning baseball games and nothing is going to change that. As a team, it's not anything that affects how we prepare, our goal, our job to win a baseball game for the Dodgers. It's certainly on guys' minds, but I don't think it affects performance."
The Dodgers are scheduled to take on the Washington Nationals at 7:05PM PT on Friday night in Washington, D.C.
Copyright AP - Associated Press