My first order of business today was to figure out how to say her name. Sotomayor = Sotto-mayor? SOHto-Myer? I did an internet search as soon as the URGENT AP ALERT came down at 5:25am that said the nomination of Sonia Sotomayor was imminent. The daughter of Puerto Rican immigrants, I guessed the SOH-toe part ... now it was just between "MAY-or," "MY-ore" or "my-ORE." I came up with SOH-toe-my-ORE by popular vote online.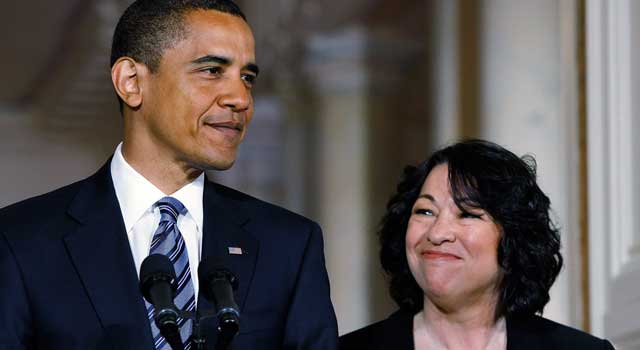 While I was researching the task at hand, which was HOW will I pronounce her name when it inevitably comes up in the TelePrompTer, I came across all kinds of information about her that I'm listening to the President talk about now as he announces her nomination.
She just introduced her brother and gave us a hint on how to say his name ... sotomyORrrrrrrrrr! Now we can be sure. Good thing I looked it up before I said it THREE TIMES ON THE AIR before the announcement just now (7:15am PDT.)
The thing that was all the buzz about her when she was being vetted as a potential US Supreme Court Justice was this YouTube video. The one that made the rounds was just about :30 seconds ... here is what she said to Duke University Law School in 2005:
"..all of the legal defense funds out there ... they're looking for people with court of appeals experience. Because it is ... court of appeals is where policy is made. And I know and I know this is on tape and I should never say that because we don't make law I know (laughter from audience) "okay aahkay I know, I'm not promoting it I'm not advocating it but .. you know." (more laughter) Okay. UM, hah..."
Local
Get Los Angeles's latest local news on crime, entertainment, weather, schools, COVID, cost of living and more. Here's your go-to source for today's LA news.
The clip I have posted here is a little longer, with a little more context on what she said before and after, but the effect is still the same.
The New York Post Headline: "SUPREME SCREW-UP" and says, "In addition to mangling the most basic lesson about the three branches of government, Sotomayor's claim raises the hackles of conservatives who accuse liberal judges of trying to legislate from the bench."
We'll hear a lot about this YouTube video in coming days. President Obama made a veiled reference to it at the press conference this morning when he said said that one of the reasons he selected Sotomayor was her "understanding that a judge's job is to interpret, not make law." He appears positioned to dismiss it as an offhand comment and a joke.
The basic information about Sonia Sotomayor is a true American success story. A New York Daily News opinion piece called Bronx girl makes good summarizes her background:
Born in the Bronx in 1954 to parents from Puerto Rico, she was diagnosed with diabetes at 8. Her father, a factory worker, died when she was 9. Her mother supported Sotomayor and her brother, now a doctor, by working at methadone clinics.
More fluent in Spanish than in English, Sotomayor started school at Blessed Sacrament in Soundview. Then she moved on to Cardinal Spellman in Wakefield. In 1972, she made a huge leap to Princeton University, an Ivy League school that had started accepting women undergraduates only in 1969.
She aced the place, graduating summa cum laude and going on to Yale Law School, where she was an editor of a law journal. She moved on from there to work as a trial lawyer in the Manhattan district attorney's office, as an attorney in private practice and then as a federal judge.
She grew up in the Bronxdale housing projects ... only to be appointed to the bench first by a Republican, then a Democrat:
The first President Bush, a Republican, appointed to Sotomayor to Manhattan Federal Court in 1992. President Clinton, a Democrat, elevated her to the Second Circuit Court of Appeals in 1998.
What she said this morning in the press conference sums it up. Whether she makes it through confirmation hearings or not, she sees herself as an "ordinary person who has been blessed with extraordinary opportunities."