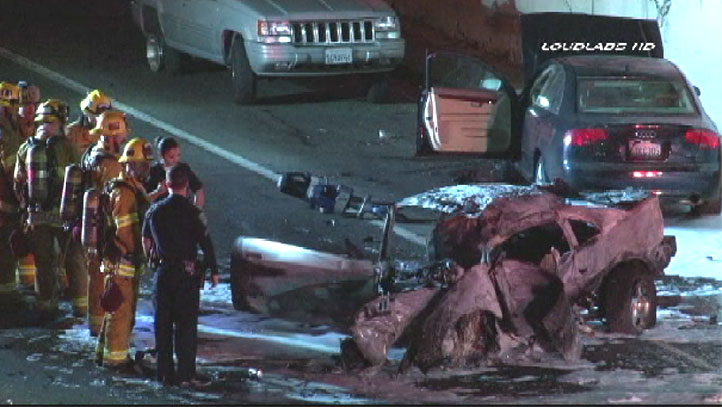 A speeding motorist was drunk when he smashed his 2001 Ford Mustang into guardrails at the western end of the Santa Monica (10) Freeway, but his two teenaged passengers escaped the fiery wreck, CHP officers said.
Giovanny Soto, 19, of Bell was identified by the Los Angeles County Coroner's Office as the man who died in the wreck.
The crash happened at 1:35 a.m. in the McClure Tunnel, a transition road between the 10 Freeway and Pacific Coast Highway, according to the California Highway Patrol.
Local
Local news from across Southern California
Investigators believe the Mustang struck the metal guardrail on the north side of the freeway, went up an embankment and struck a concrete wall. The Mustang spun back onto the freeway, facing the wrong way, blocking both lanes and catching fire.
The driver remained trapped inside the car and died in the flames, the CHP said.
Two male passengers, aged 16 and 19, were able to scramble out as a 2008 Audi A4 and Jeep Cherokee crashed at the wreckage.
No one in the other cars was injured, but the 19-year-old Mustang passenger suffered cuts to his face. He was taken to a hospital with moderate injuries.
The 16-year-old boy had minor cuts to the left hand, and was also taken to a hospital.
A witness told NBC4 she saw a car hit the wall of the tunnel before it caught fire. She heard explosions as she watched other cars slam into the flaming vehicle.
Video from the scene showed fire crews assessing a smashed, charred vehicle. Fire trucks and police cars lined the roadway, littered with debris.
Traffic was diverted at Fourth Street as officials closed the PCH transition to the westbound 10 Freeway until 6 a.m.
City News Service contributed to this report.
More Southern California Stories: