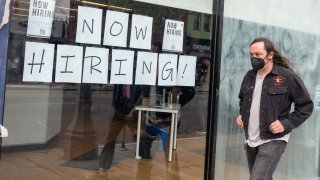 After months of economic distress caused by the COVID-19 pandemic, many people are still unemployed. But as more people get vaccinated in a reopened California, employers are preparing for a boost in business by hiring new employees.
If you're looking for a job, here is a sampling of companies and organizations hiring in Southern California right now. This story was updated July 7, 2021.
Progressive Insurance
The insurance company is hiring up to 6,400 new employees around the U.S. throughout the rest of 2021, with openings in the Los Angeles area, it said in a news release.
Employees can take advantage of internal career development workshops and mentoring programs, and new hires are eligible for the company's annual bonus plan. Progressive offers medical, dental, vision and life insurance benefits, and four weeks of paid parental leave "for moms and dads – including same-sex partners, adoptive parents and foster parents."
There are jobs available in the company's call centers, claims, technology, legal and analysis business areas. Many of the jobs are also hybrid or fully remote. Around 80% of Progressive's non-entry-level jobs are filled by promoting from within, they said, with training provided for entry-level employees who have no background in insurance.
Interested applicants can apply here.
Macy's
The department store chain is hiring around 3,500 full- and part-time employees at stores throughout Southern California, with around 3,000 positions in the greater Los Angeles area. There will be a national hiring event on Thursday, July 15, from 11 a.m. to 7 p.m. local time, at 500 stores and fulfillment centers nationwide.
Macy's is hiring employees for its store leadership teams, cosmetics and beauty department, merchandising team, customer experience team, and store operations team.
While store leadership team candidates are not eligible for same-day interviews during the hiring event, other candidates are, and many applicants receive offers the same day they apply according to a news release from the company. Candidates who recruit friends or family are eligible for a $250 referral bonus.
Interested applicants can search for jobs and apply here.
FedEx
FedEx Ground plans to open a new distribution center in Chino this August, and is hiring 2,200 new employees in the greater Inland Empire area to do so. Other FedEx stations in the area are also hiring.
The shipping company said that the biggest hiring needs it will have in the coming months as it continues to handle the uptick in demand for online packages shipping is in package handlers.
Employees get "competitive wages with day, night and weekend shifts available," are eligible for holiday pay, medical, dental and vision coverage after a minimum service threshold, paid time off, tuition reimbursement, paid parental leave and employee discounts on "cell phone service, groceries, car purchases and more."
There are no minimum education requirements for package handlers, and interested applicants can apply here.
Greyhound Lines
The bus service is looking to hire around 200 drivers immediately, to cope with the increased demand for travel, and stated in a news release that they plan to hire around 600 new drivers throughout the year in addition to those that had previously been furloughed.
Those drivers can work from anywhere and be based wherever they choose, due to the company's "extensive network that services over 2,400 destinations." As of July 7, there were three job openings listed in Los Angeles.
The company offers "competitive compensation and benefits," including vision, dental and health insurance, PTO and paid holidays, a 401(k) and advancement opportunities, according to its website.
Interested applicants can apply here.
United States Postal Service
The USPS is hiring carrier assistants in the Los Angeles area, our sister station Telemundo 52 reported May 24. As of July 7, there were USPS job postings in Long Beach, Pasadena, Glendale, Oxnard and Los Angeles, as well as other cities throughout California.
Pay starts at $18.01 an hour, with benefits including medical, annual vacations and opportunities to advance. Applicants must be at least 18 years old and able to work weekends and holidays.
Interested applicants can go to the USPS careers website.
UPS
UPS is hiring 300 permanent, part-time employees in the greater Los Angeles area, to accommodate increased e-commerce shipping, as of May 20. As of July 7, there were jobs in Anaheim, Fontana, Inglewood, Oxnard and Los Angeles, as well as other cities around California.
Hourly starting pay ranges from $14.50 to $16, depending on the location, shift and position. There are annual raises and benefits, including retirement contributions, tuition assistance, and a discounted stock purchase program, as well as healthcare after a short waiting period.
Interested applicants can apply here.
Nordstrom
Nordstrom announced Wednesday that the fashion retailer company is hiring "thousands of seasonal and year-round employees in California."
Prospective employees can apply to sales, fulfillment and logistics, restaurant and support roles, according to a news release from the company. The company hosted hiring days from 11 a.m. to 6 p.m. on June 4 and June 18, at all California Nordstrom stores, Nordstrom Rack stores and supply chain facilities. As of July 7, there were still over 100 Nordstrom jobs in Los Angeles.
Pay is "competitive," and employees get "a merchandise discount of 20 percent and benefits such as medical coverage, employer-matched retirement plan and much more." Supply chain facility employees are eligible for a signing bonus.
All available positions are posted online and listed by store location at the Nordstrom careers website.
Universal Studios Hollywood
Universal Studios Hollywood is hiring for a variety of positions at the theme park, with 2,000 seasonal and professional career jobs, both part- and full-time.
Prospective employees can apply for Attractions and Entertainment jobs that include Production Assistant and Show Controller positions; Guest Relations, Park Services, Wardrobe, Retail, and Parking jobs, and jobs with the Food department that include posts as Bartenders, Baristas, Cooks, Bakers, Food Stand Attendants and Runners.
Those interested in applying to one of the in-park jobs can go to the Universal Studios jobs webpage, while those interested in Finance, Marketing, Human Resources, Engineering or Environmental Health & Safety jobs can apply at the NBCUniversal Careers webpage.
Universal Studios Hollywood and NBCLA are both owned by NBCUniversal, a property of the Comcast Corporation.
OC Fair
The OC Fair is returning in 2021, and fair officials are looking to hire for positions ranging from ticket tackers to security to customer service representatives.
Jobs are open to those 16 and older, and perks for employees include "free admission to the OC Fair, discounted tickets for friends and family and the opportunity to win a Fair employee scholarship."
Those interested in applying to work at the fair, which will run from July 16 through Aug. 15, 2021 in Orange County, can search here.