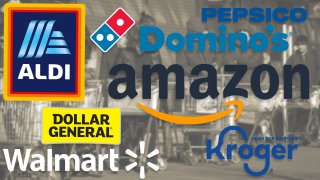 Americans have endured outbreak-related layoffs and widespread economic uncertainty as a result of COVID-19. The restaurant and hospitality industry has been hit particularly hard by lockdowns and travel bans. For those now looking for work, "essential" businesses like grocery stores are hiring temporary workers and full-time employees.
Here is a list of the companies hiring right now:
7-Eleven
7-Eleven announced it would be hiring as many as 20,000 employees across approximately 400 stores to stock and clean. Apply here. (updated March 24)
Albertsons
The Albertsons grocery store and parent-company of Safeway, Vons, Pavilions, ACME and others is currently hiring for more than 1,600 positions across its brands. Apply here. (updated March 20)
Aldi
U.S. & World
News from around the country and around the globe
Aldi was recognized by Forbes as one of America's Best Employers in 2019. They are now hiring for all stores and warehouses. Apply here. (updated March 20)
Amazon
Amazon is hiring an additional 75,000 workers at its facilities, on top of the 100,000 new positions it created last month, the company said Monday.
In March, the company said it would hire additional warehouse and delivery workers across the country amid a surge in online shopping during the coronavirus outbreak. Since then, Amazon said it has hired more than 100,000 new employees and, as a result, is staffing up even more to help fulfill orders.
"We continue to see increased demand as our teams support their communities, and are going to continue to hire, creating an additional 75,000 jobs to help serve customers during this unprecedented time," the company said. 
Costco
It's no secret Costco has had an influx of business since panicked buyers started clearing the shelves. The warehouse club is looking to add hourly workers and is also offering work-from-home opportunities. Check their career site here to see all the jobs they're hiring for. (updated March 20)
CVS Health
CVS Health says it will hold "the most ambitious hiring drive in the company's history, with plans to immediately fill 50,000 full-time, part-time and temporary roles across the country." Jobs include store associates, home delivery drivers, distribution center employees and customer service professionals. The company will hold virtual job fairs, interviews and job tryouts with "many roles" to be filled CVS Health clients like Hilton and Marriott that have had to furlough workers.
CVS Health also said that it will pay bonuses that range from $150 to $500 to those who must be on-site at CVS facilities to help customers. Search jobs here. (updated March 23)
Dollar General
"For any individual whose job has been temporarily impacted by the effect of COVID-19, we currently have a number of full and part-time positions available across our stores, distribution centers and private fleet network," a statement on their website read. Apply here for their up to 50,000 available positions through the end of April. (updated March 23)
Dollar Tree and Family Dollar
Dollar Tree and Family Dollar are hiring more than 25,000 full- and part-time employees in stores and distribution centers across the U.S. Apply here for Dollar Tree opening and here for Family Dollar positions. (updated March 24)
Domino's
The pizza chain is looking to immediately fill positions for "delivery experts, pizza makers, customer service representatives, managers and assistant managers."
"Our corporate and franchise stores want to make sure they're not only feeding people, but also providing opportunity to those looking for work at this time, especially those in the heavily-impacted restaurant industry" Domino's CEO Richard Allison said in a statement. Apply here. (updated March 20)
Instacart
Instacart said it's looking to hire 300,000 shoppers across North America over the next three months. You can sign up here. (updated March 24)
Kroger
The Kroger family of companies including Ralph's, Food 4 Less, Pick 'n Save and others are hiring for more than 7,000 positions across its brands. Apply here. (updated March 20)
Lowe's
Lowe's announced it's hiring 30,000 full-time, part-time, overnight and seasonal store associates across the U.S. Click here or text "JOBS" to LOWES (56937) to learn more and apply. The company has temporarily increased wages for its hourly associates by $2 through the month of April. Lowe's is also providing store employees with personal protective equipment like masks and gloves. (updated April 2).
Papa John's
Papa John's is looking to hire 20,000 new team members and applicants can expect to have an interview and potentially start the same day, according to the company. Apply here or text JOBS to 47272. (updated March 23)
PepsiCo
PepsiCo is looking to hire 6,000 new employees across the U.S. Available jobs are in manufacturing and production, marketing, sales, transportation and many other divisions. Apply here. (updated March 20)
Pizza Hut
Pizza Hut has more than 30,000 open positions and is implementing an expedited hiring process to have new delivery drivers on the road within five hours. These permanent positions include openings for cooks, shift leaders, restaurant managers, virtual call center agents and delivery drivers. Apply here. (updated March 24)
Rite Aid
Rite Aid announced it will hire 5,000 associates for full and part-time positions to meet increased demands due to the COVID-19 pandemic. The company has also rolled out a new program to recognize its associates who are providing important and essential services to communities across the country. Benefits of the new "Hero Program" include an increase of $2 per hour for hourly associates as well as a bonus of $1,000 for current retail store management.
Walgreens
Walgreen has more than 9,500 part- and full-time positions open, including roles for customer service associates, pharmacy technicians and shift leads. Check here for openings near you. (updated March 24)
Walmart
Walmart plans to hire 150,000 hourly workers in the U.S. and announced $550 million in cash bonuses to reward workers as they work tirelessly to meet the demand created by the coronavirus pandemic. Apply here. (updated March 20)
Whole Foods
Whole Foods, now owned by Amazon, said it's looking to fill more than 5,000 full-time and seasonal positions nationwide. They will also be adding an additional $2 per hour in pay through May 3 on top of their current rate of $15/hour or more.
Whole Foods is also offering overtime rates at double the hourly base rate per overtime hour in most areas, the company said, as well as flexible shifts and an expedited hiring process. Apply here. (updated March 27)