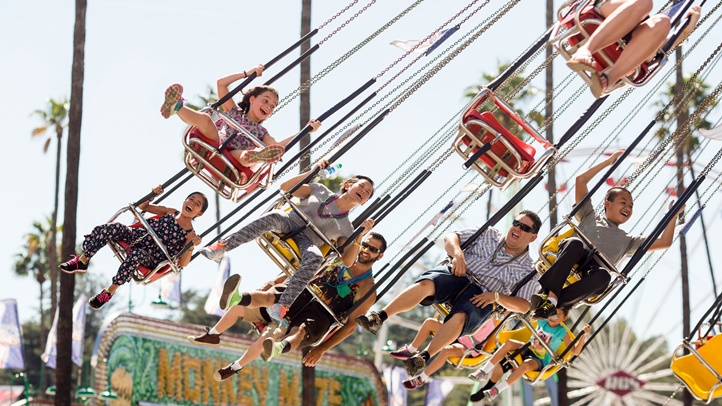 What to Know
Pomona
Aug. 31-Sept. 23, 2018
"Get Your Kicks" ticket package on sale on Feb. 25
How do you reach the Los Angeles County Fair?
If you're a musician, "practice, practice, practice" seems to apply, to borrow from the classic Carnegie Hall joke.
If you're a quilter, or a woodworker, or painter, the answer is to create something splendid and possibly worthy of a blue ribbon.
The Scene
What to do, where to go and what to see
And if you're a rabbit or guinea pig? You might want to work on your fluff and general cute-a-bility.
But, for most of us, reaching the massive, ride-laden, three-week-long festival at the Fairplex involves traveling along streets, and a section of one of the best-known thoroughfares in the world happens to be found just a few minutes north of the fair's famous Pomona home.
It's Route 66, also known as Foothill Boulevard 'round that particular area, and LA County Fair is honoring its asphalt-tastic neighbor with its 2018 theme.
The theme, which was revealed on Wednesday, Feb. 15, is "Get Your Kicks... at the LA County Fair," and if that doesn't have you humming the popular ditty, which was so beautifully sung by Nat King Cole and, later, a host of other performers, well, best put "Route 66" on the ol' hi-fi at once.
The late-summer fair will roll its own wheels from Aug. 31 through Sept. 23, and you can count on seeing a bit of Route 66 in every exhibit, on the merchandise, and in some of the food pricing, too.
In fact, a "Get Your Kicks" ticket package is on through Sunday, Feb. 25, and it is, you got it, $66.
Included in that price? A quartet of season packages, parking, those all-important lanyards, and "a special gift box."
Get this, though: If you choose to go the regular admission route, it'll be the same price as last year. There's no fair fare increase on regular admissions for 2018, in short.
But if you go with the package plan? Route 66 ends, as we know, at Santa Monica Pier, and the "Get Your Kicks" package will end, too, and soon. So drive quickly in the direction of the deal before Feb. 25, when it concludes.
It's true: You can reach the LA County Fair, which will turn 100 in 2022, by driving along Route 66, with a couple of final turns to pull into the Fairplex.
Making "Get Your Kicks" an oh-so-local theme for what's called "the largest county fair in the country," and one that'll draw the 66ers in, from near, far, and next door, along ol' Route 66.
Copyright FREEL - NBC Local Media