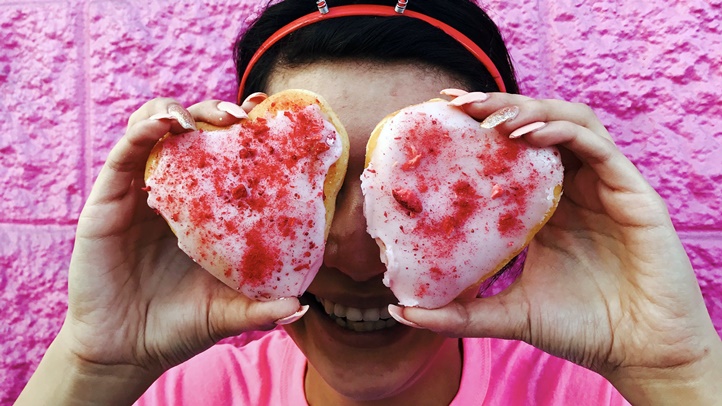 What to Know
Wednesday, Feb. 14
Trejo's Donuts, The Donut Man, Winston Pies, NoMad LA Coffee Bar
Doughnuts, chocolate-covered strawberries, macaroons, hand pies
When it comes to Valentine's Day and food, middle ground can be as difficult to find as the candy heart with the exact message you seek.
On the one hand, you have the iconic box of chocolates, the "here you go, be mine" present that promises the giftee nougat-flavored, nut-tastic deliciousness for weeks, or days, or minutes to come.
Then? There is the all-stops-pulled-out dinner, on the other hand, the six-courser that boasts courses you weren't even sure truly existed.
The Scene
What to do, where to go and what to see
But what of the simple sweet that neither arrives in a box nor flambéed at the end of a pricey meal? The doughnut, the cookie, the chocolate-dipped strawberry?
Trejo's Coffee & Donuts has got you covered for Valentine's 2018, with a trio delicious dunkers, including Kisses, a raised doughnut with white chocolate and sprinkles, the Black Velvet, a chocolate doughnut with cream cheese frosting, and Be Mine, a doughnut filled with strawberry milk cream and covered in strawberry glaze and freeze-dried strawberries.
The brand-new coffee bar at the NoMad Los Angeles downtown is going the Strawberry & Cream croissants route for the February holiday, but if flaky pastries aren't exactly what you had in mind, order a few Raspberry Rose macaroons (they're heart-shaped, oh yeah).
At The Donut Man in Glendora? They have Red Velvet Cake doughnuts which, if you know your offerings at this iconic doughnut shop, you'll know is a once-a-year thing, all in honor of Valentine's Day. There are also chocolate-covered strawberries at the walk-up window, too, if you and your sweetie want to go for a couple of different goodies.
Winston Pies knows that pie should be a part of every major holiday, and every non-major holiday, and every day that isn't a holiday, so, yeah: the whole calendar. If your paramour is a pie person, the Brentwood goodie go-to has Heart-Shaped Hand Pies for the holiday. Hand pies, as in, one in each hand, if that's your preference.
And if you're not a dessert lover, but your pup is, trot to The Dog Bakery at The Original Farmers Market, where cute and made-for-pups Valentine's cookies await. (As do several other treats found within the stalls beyond the bakery, too.)
Copyright FREEL - NBC Local Media