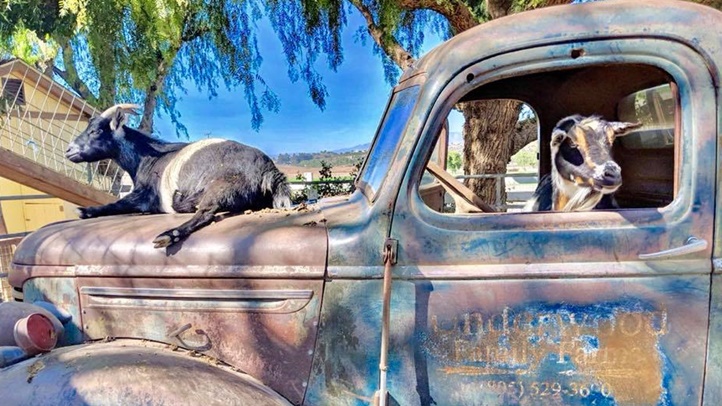 What to Know
Thursday, March 1
Moorpark Farm Center
Animal cuteness, produce, family fun
When you were in school, and just a tot, and you dug into the classroom book pile during Quiet Time, you likely found oodles of sweet stories involving soft chicks and furry lambs and a host of baby farm animals having adorable adventures.
Sometimes, even, you might have gone on a field trip to see chicks and lambs and kids — goat kids, of course — at an actual farm, an experience sure to stay with you for years.
How, though, to find such a spring-sweet outing as an adult, with your own kids (people kids, of course), and not just in the pages of a storybook?
The Scene
What to do, where to go and what to see
Underwood Family Farms is one such destination, and its Moorpark Farm Center is opening just as animals around the property are giving birth and raising wee little critters, the sort of just-born cuties that'll elicit an "awww" from practically anyone.
And the Moorpark Farm Center is opening, on Thursday, March 1, all to get the joyful jump on spring. (If you're now picturing a kid, as in a goat baby, joyfully jumping, that's the image we're going for.)
The center's opening means that you and your farm-loving fam can admire all of the new babies bleating and cooing and chirping at the Moorpark agricultural destination, and you can buy some fresh produce, too.
Or pick your own, as is tradition at the bountiful locale. Word from the Underwood Family Farms Facebook page is that the mandarines are looking ripe and pick-ready for opening day.
Admission is three dollars on weekdays, six bucks on weekends, though note that admission can be a bit higher on holidays and during festivals, so check out the whole line-up of prices.
As for what babies you'll see, beginning on March 1? Maybelline, a gorgeous spotted goat, gave birth to three kids on Feb. 22, two boys and a girl. And more farm babies might just be on the way, now that it is nearly springtime.
Ducklings and chicks and pygmy goats are some of the baby animals that farm staffers are anticipating, fingers crossed, in the weeks ahead.
And springtime and farm babies do delightfully go together, as the storybooks back at your grade school surely told you.
Copyright FREEL - NBC Local Media