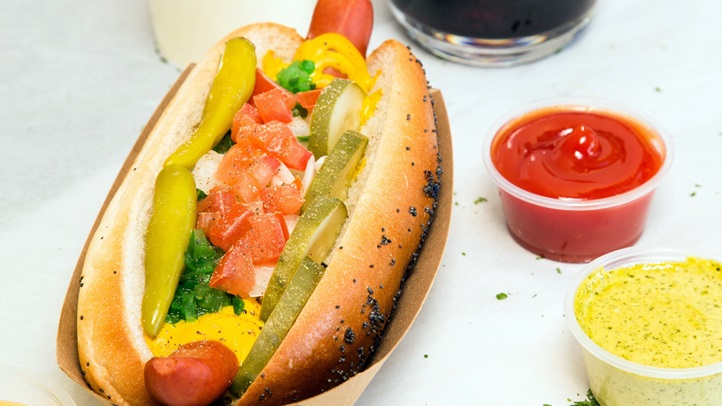 In a time when lots of iffy, not-so-factual stuff can pass in front of our skeptical, online-perusing eyes, we can emphatically state that the next two things are absolutely, look-it-up, we're-not-going-to-argue-over-it true.
One? The Chicago Cubs won the 2016 World Series in a bite-your-ball-cap thriller of a seven-game showdown with the Cleveland Indians. Done. Travel far into the future, crack open the dustiest of history books, and you'll read it there.
And two? While most towns known for frankfurters refer to them simply as "hot dogs," a person can accurately say "Chicago Dogs" in the Windy City while staying loyal to the local vernacular.
The Scene
What to do, where to go and what to see
That's how iconic these celery-salt'd, pickle-tangy wonders are: They arrive on your table proudly displaying their birthplace in their very name.
But where can a Cubbies fan find such a city-specific treat in Southern California? Make no ifs, buts, or goats about it: LA has some flavorful, straight-from-the-Loop Chicago Dogs.
Poppy seed bun buffs of SoCal best make for...
Taste Chicago: Are you even kidding? This is where a lot of transplants and Illinois aficionados go when the homesickness grows too great. Find lots of Chicago-style treats on the menu, including, of course, a true-to-its-origins Chicago Dog, which is "no ordinary dog!" You betcha.
The Stand: Will you find a bevy of zingy sport peppers, some diced onion (yellow, natch), the all-important celery salt, and a bun boasting the equally as important poppy seeds? You will, so head for Encino, Century City, Woodland Hills, or Northridge to get your chow-down on.
Pink's: Of course the super-iconic hot dog stand is going to do their own tribute to The City of Broad Shoulders, and it arrives in the form of a Chicago Polish Dog. Mustard and relish give this frankie extra kick. Now how many Cubs hats will be seen in the queue in the coming days? (One guess? Many.)
Vicious Dogs: If North Hollywood is your beat, and you want to find a spot to meet up with your other Cubs-loving pals for lunch, look to this Lankershim go-to and its classic Chicago, which has all of the stuff on it you want on it, including the gotta-crunch-it pickle as well as tomato wedges.
These four frankerfurteries, plus a caboodle of other eateries around the region, salute the Windy City on a regular daily basis, hot dog after hot dog.
But the day after a World Series win? Look for the Cubs fans to be out in full, festive, frankfurter-enjoying force, and all baseball mavens riveted by a seven-gamer for the books.
Copyright FREEL - NBC Local Media