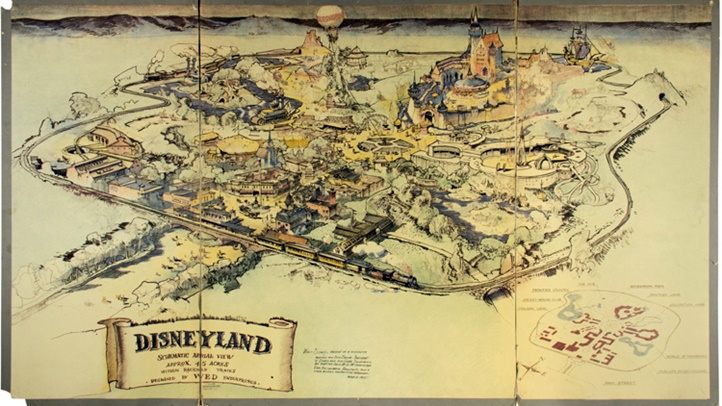 Perhaps you cut your plans short on Saturday night, in order to return home and spend time measuring some wall space for a rare map.
Or maybe you spent a good chunk of the weekend at the lighting store, searching for the perfect bulbs to illuminate the treasure you hope to soon score.
Or you could simply be a Disneyland fan looking to enjoy the thrill of a big, rarity-packed auction, even if you don't, in the end, bid on anything.
The Scene
What to do, where to go and what to see
Whatever route you take to the Walt Disney's Disneyland auction, whether you're at the Van Eaton Galleries in Sherman Oaks in person on June 25, or whether you're following along online, is as sweet as a churro.
It's certainly a gavel-swinger that's attracting a lot of attention, here in Southern California and beyond. And, yes, Disney auctions do garner the spotlight, it is true, but the 1953 hand-drawn map of Disneyland Park, which was created over a weekend by Walt Disney and artist Herb Ryman, is understandably making headlines.
The map was, after all, created to help attract financing for the attraction-filled destination, back when it was pretty much just a dream of Mr. Disney's, and nothing concrete. No doubt the important artifact will draw eager bidders, and top dollar, too: The standing bid, just a few hours ahead of the auction's opening, is $500,000.
If the early Disneyland map is slightly out of your budget, note that the auction brims with other quirky and nostalgic treasures, like "original props, wardrobe, ride vehicles, and souvenirs."
You might soon own a Disneyland construction hard hat from the 1960s or Minnie Mouse character shoes and bloomers.
Yes, the shoes are chunky and bright yellow and marvelously Minnie. Yes, we know you want them, possibly to display, maybe to wear.
And are you blue over the fact that you can't find any of your old E tickets? There are complete ticket books on the block, too, from decades ago.
Happy lookie-loo-ing, Disney dreamers. May you watch it all go down live from Sherman Oaks with, fingers crossed, a churro, a pickle, or a Dole Whip in hand.
Copyright FREEL - NBC Local Media