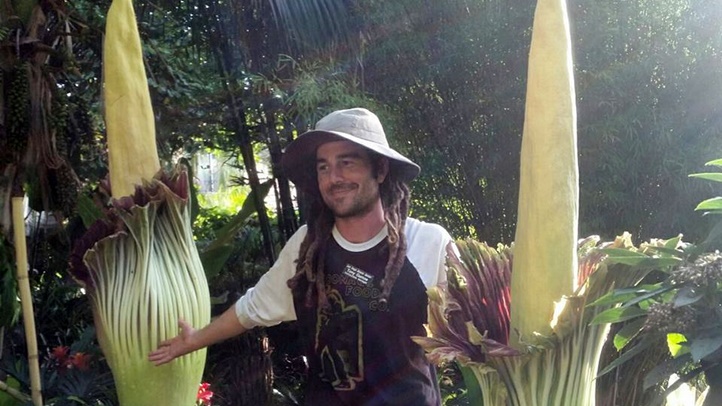 If you're lucky enough to have a friend who watches out for you, who has your back when life isn't going your way, and who forever wants to pitch in when push comes to shove, you'll easily recognize the scenario happening in Encinitas on Thursday, Sept. 21.
That's where a rare Corpse Flower recently bloomed, at the San Diego Botanic Garden, drawing curious, brave-nose'd visitors who wanted to smell its disgustingly grody scent.
But due to a fall-like cold snap over the middle weekend of September, the bloom arrived a little later than expected, on a Monday night, and appeared to be short-lived, going for a day or so rather than the hoped-for two to three days.
The Scene
What to do, where to go and what to see
This is where Corpse Flower #1's valiant sidekick swooped in, or "stinkkick" is the more apt description. CSU Fullerton, a friend to the gardens, sprung into action, kindly sending a ready-to-burst Corpse Flower it had on hand down to Encinitas to join the first Corpse Flower in a double symphony of malodorous effusion.
So while Corpse Flower #1 is speedily wrapping up its stench-filled stretch, Corpse Flower #2, the new loaner, is going to town in the nose-plugging department as of Thursday, Sept. 21.
But how long will this second stinker last?
Don't place your bets on any longer predictions. For while #2's "spathe," or frilly leaves, are "open wider" than its BFF, and thus is emitting more stink, the second bloom may soon say "so long," as is the usual way with the Titan Arum, the more official name of the Corpse Flower.
Why is this second Corpse Flower proving to be more putrid to our sniffers? It "...was kept in a greenhouse for a longer period of time at CSU Fullerton," unlike Corpse Flower #1, which basked in the outdoor air.
Making this a trio, though, is a third Corpse Flower on the SDBG scene, which is in its leafy, non-smelling stage.
No, you won't have tales to tell of how noxiously #3 stank, but you will leave having seen the Corpse Flower in a couple of stages of its amazing cycle. Also? Sept. 21 is the final day of summer, and spending it among such fantastical flora seems like a fitting, if foul, send-off.
Copyright FREEL - NBC Local Media