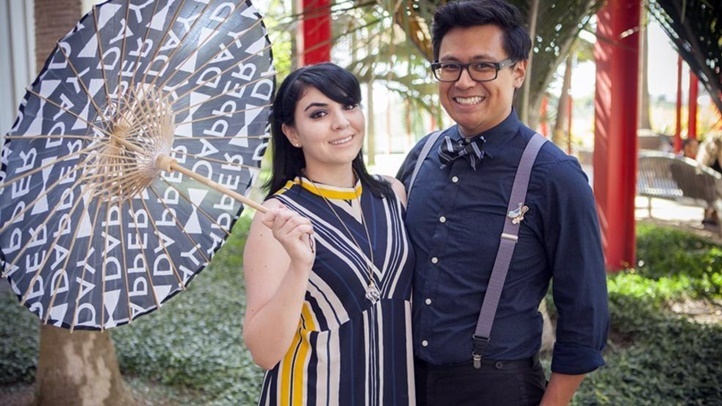 What to Know
Saturday, June 9
Los Angeles County Museum of Art
Free to visit the grounds; admission required for museum entry
That seersucker suit in your closet, the one that's the perfect color of a peach?
Truth time. It's not going to wear itself.
Same goes for the ruffly Rita Hayworth-style gown you found at that one movie studio close-out sale a decade ago.
The Scene
What to do, where to go and what to see
And your boater hat, your elbow-length gloves, and your peplum jacket, the one that looks as though it was worn by a comedian in a screwball comedy?
Same deal: They're not wearing themselves.
So you have to be bold, stand tall, own your vision, and don your most elegant and vintage items all to sassily show them off, like a star, during Dapper Day.
The every-so-often event is strutting into the Los Angeles County Museum of Art on Saturday, June 9, and while vintage fashion will dazzingly dominate the day, all chic get-ups, modern or historic, are welcome.
Hats, parasols, neckties, and eye-catching jewelry are some of the commonly seen pieces at the to-do, but common, and boring, they are definitely not.
The cost to join Dapper Day?
It's free to meander about the museum grounds in your excellent outfit, while also enjoying the outfits of other fashion-forward attendees, but if you'd like to enter LACMA, you'll need to pay admission or have a membership.
You may want to go this route, for the event is celebrating the "David Hockney: 82 Portraits and 1 Still-Life" exhibition. Other happenings in and around LACMA include a Dapper Day Marketplace, docent tours, afternoon picnicking, and a concert from Lily Hernandez & Orquesta.
A DJ at "Urban Light" will provide the get-moving, kick-up-your-heels sounds once day turns to night.
Peruse the whole roster, hours, prices, free things, and good-to-knows at the Dapper Day site.
And if you love the fashion-fun experience, stay tuned: Dapper Day returns to Disneyland Resort, the place it is most associated with, on Sunday, Nov. 4, 2018.
Copyright FREEL - NBC Local Media