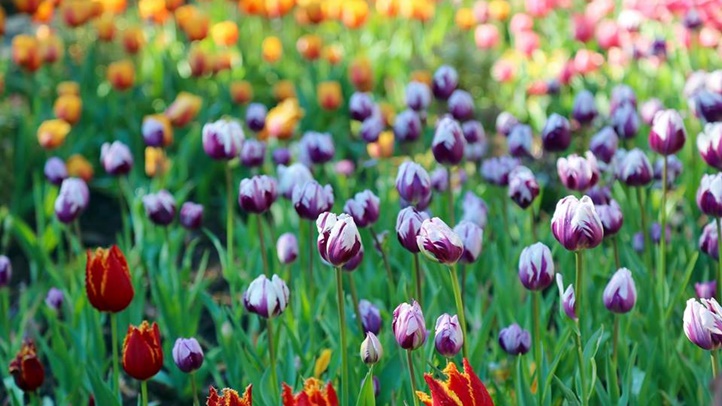 What to Know
Descanso Gardens
La Cañada Flintridge
Included with admission
We know. Honest. We really, really do.
It isn't even worth discussing, unless you need to unburden your heart and work through your feelings and get to the bottom of your emotions.
We know that, due to the lack of early winter rainfall, certain wildflower scenes have proven to be on the less-than-wowza side... thus far.
The Scene
What to do, where to go and what to see
The Antelope Valley California Poppy Reserve has been blessedly straightforward about the situation. An early March Facebook post from the beautiful nature destination reported that grape lupine was popping up, though not poppies... yet.
Recent rain may deliver some floral fabulousness to eager wildflower mavens, so, keep those fingers crossed. But know this: Cultivated flowers, from ranunculus found at The Flower Fields of Carlsbad to the cherry blossoms of our major public gardens in and around Los Angeles, are springing along.
And maybe none more so than the tulips of Descanso Gardens, at least as we head into the middle of March. The La Cañada Flintridge destination posted "FULL BLOOM" on Facebook on Monday, March 12, next to a snapshot of a small sea of colorful tulips.
The tulips are expected to continue blooming for the "... next week or two, weather-dependent," reads the post.
How to admire these pert petals in profusion? Your admission to the historic gardens is all that's required.
Of course, if you're a member, high fives, and if you're not a member, but you're thinking about signing up, you couldn't pick a better time: Those cherry blossoms are still providing delicate enchantment, with blooming to come around the exquisite Japanese Garden.
Also? Daffodils, camellias, and other buds are embracing the whole spring thing wholeheartedly around the strollable spread.
All that said, we'd never dare pit cultivated, in-garden blossoms against the wildflowers of our deserts and foothills, no way.
But knowing that you can enjoy a spread of tall-standing tulips, in an array of hues, while you await word on the poppy situation is one petal-perfect plus to calling Southern California home.
We have so many flowery wonders to admire here, both inside the garden and far beyond any tended-to plots.
Copyright FREEL - NBC Local Media