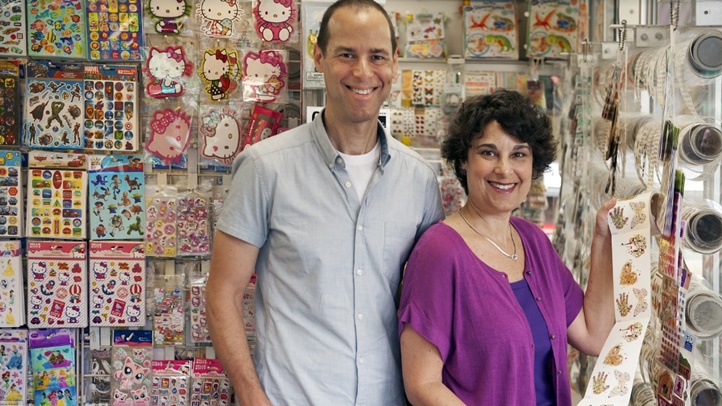 Standing out in the middle of LA?
You better be pretty darn sparkly, that's for sure. You better have some razzmatazz and panache. Sheer adorableness couldn't hurt, and if you're a unicorn, puppy, a rainbow, a twinkly star, or something else as magical? Even better.
For inspiration, take a glance in the glittery direction of Sticker Planet, which can be found pretty close to the heart of the Original Farmers Market, both location-wise and theme-wise.
The Scene
What to do, where to go and what to see
While there are other stores devoted solely to stickers located here and there around the country, there are not that many, making this bastion of all that is coin-sized, stickable, and highly affordable something of a rare find.
But Southern Californians have known about it for a quarter century now, as well as those lucky visitors calling upon the landmark public market for a nosh. Yes, we said "quarter century" there, and if you're hoping that someplace as happiness-bringing as Sticker Planet might go all out and throw a party, you'd be entirely correct.
The stickeriest celebration in the city is set for Sunday, Oct. 8, and several happenings are ready to shine beginning at 11 in the morning.
The store'll be rocking the '90s tunes, in honor of the decade it all started, and it will be leading a number of activities like the "(m)aking of customized balloon designs which kids can decorate with stickers" as well as the creation of door knob hangers, the kind you stick your favorite elephants and hearts and kittens all over.
Some extra sparkly, spirit-warming to-knows about the day? If you're a teacher in the area, and you show your ID, you'll received 20% off your purchase on Oct. 8.
And all attendees can bid on a "fabulous sticker birthday party, hosted by Sticker Planet, with 100% of the auction proceeds going to fight ALS." Bernie Kraft, who co-founded Sticker Planet with his wife Selma, had ALS, and today Selma, and the Krafts' adult kids Hilary and Richard, regularly incorporate fundraising efforts into Sticker Planet happenings on behalf of the ALS Association, all to remember their dad.
Bernie passed away in 2003, but the Kraft family continues his mission: Bringing joy to families who step inside the sticker-plentiful shop for the first, third, or 100th happy time.
Copyright FREEL - NBC Local Media