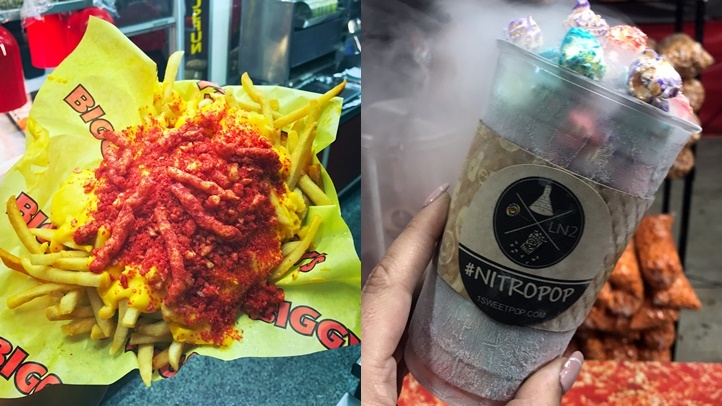 Maybe the feeling that many foodies often experience at a county fair isn't so much "overwhelmed" as "eaterwhelmed."
Because there are oodles of offbeat bites to try, and new-to-you noshables, and gotta-see-what-this-tastes-like libations, too.
So. Very. Many.
The Scene
What to do, where to go and what to see
So here's one solution before "the largest county fair in the nation" opens in Pomona on Friday, Sept. 1: Eye the edibles online before you call upon the Los Angeles County Fair.
You'll at least get to see, if not photos, then what there is to eat by name, and where you'll find the foodstuff inside the sprawling spectacular.
Enter "bacon" in the Item search box on the 2017 LA County Fair Food and Drink page and over two dozen suggestions pop up, including bacon Nutella bread, bacon Asiago-stuffed pups, and a number of stands serving either bacon chili cheese dogs or bacon chili cheese fries.
Speaking of fries, there's a caboodle different fry-based choices, and multiple fry-themed picks to scroll through on the fair's site. Tempting potato-luscious dishes for 2017? We're looking at you, asada Fries, as well as bacon ranch fries, too.
The chocolate category boasts chocolate-covered bacon (hi again, bacon) and a chocolate-covered caramel pretzel.
And, yes, of course, you can search for "fried" and discover a long line-up of deep-fried desserts and savory meals. If you want a deep-friend Reese's Peanut Butter Cup, deep-friend pineapple upside down cake, deep-fried green beans, or deep-fried Gansito, Pomona is the place to go.
As for the fair's dates? Sept. 1 through 24 is your chow-down window, though note that the festival shutters on Mondays and Tuesdays, with one exception: It'll stay open on Labor Day, which is Monday, Sept. 4.
Will you work your way through one entire cuisine category? Pickles? Burgers? Fruit? Start here to plot your plate-based course through the mega, and megaly yummy, county fair.
Copyright FREEL - NBC Local Media