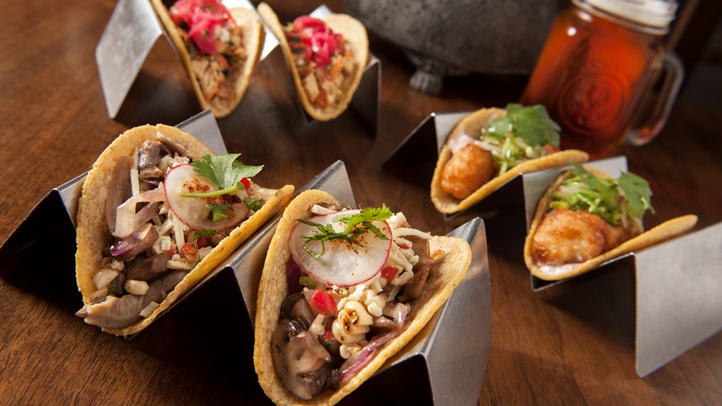 Tacos don't usually arrive at your table inside tiny time machines, as cool as that might be.
But they're enchanted eats, life-changing, even, and sometimes, with a little savory sorcery, Taco Tuesday can travel forward through time to become Taco Wednesday.
The upcoming Taco Wednesday, though, is no random occurrence, and it won't happen again for awhile, for it coincides with National Taco Day, which is Oct. 4 in 2017.
The Scene
What to do, where to go and what to see
Not all of your favorite taco stands'll be observing National Taco Day, even if Taco Tuesday is a thing they regularly celebrate. But a few Southern California eateries definitely will, and they've got a few zazzy offers up their sleeves, or, er, inside their shells.
Casa Vega, the classic Mexican restaurant at Ventura Boulevard and Fulton Avenue, will be topping Bloody Marys and Micheladas with a pair of tiny tacos through Wednesday, Oct. 4. It's a one-day-only kind of thing, it costs $15, but if you miss it, there are some taco specials going on througout October on Mondays at the venue.
Amor y Tacos: Chef Thomas Ortega's Mi Abuela — "his OG taco recipe" — will be the delectable star of National Taco Day at the Cerritos restaurant. Prepare to munch on "... ground beef y papas, pico, lettuce, salsa arbor, and cotija cream in a crunchy taco shell," and prepare to pay just a fiver for a pair of 'em. Other deliciousness awaits on the menu — short rib tacos, yes — so check it all out now.
Toca Madera, on West Third Street, is also going the $15 route, but rather than a drink and taco toppers you'll receive a trio of haute tacos, with a gourmet array of fillings. Your three-taco'd line-up includes a Duck Tinga Mole, Charred Octopus, and Chimichurri Tofu. Just want one? You can do that, and pay five dollars.
Toyaca Organica, which has a few locations around town (hello Venice, hello Sunset Plaza, and a number of other hot spots), will give customers making a purchase a complimentary, just-introduced taco. The Al Pastor comes with a protein (think slow-cooked marinated brisket) as well as grilled pineapple salsa and other piquant additions.
The Morrison Pub will have off-the-menu taco specials on Oct. 4, like this one: Pay ten bucks and nab a quartet of tacos (yep, mixing and matching is available). A special combo price, which folds in a margarita as well as the four tacos, is $15. Eager to find out what sorts of taco goodness you'll be devouring? Start here.
At El Pollo Loco, there's a whole taco platter special on National Taco Day, and it involves you buying one taco platter and then getting another taco platter for free. Are there a few asterisks? There are, and you'll want to have this coupon handy, too, before visiting your neighborhood restaurant.
And over at Taco Bell? They've been counting down to Oct. 4 on social media, with a promise of a "Taco Bell Gift Set," or "four classic tacos for $5," on Oct. 4. That's Oct. 4 only, do note, and if you want to see just what this "exclusive" gift set looks like, there's a photograph of it, box and all, right here.
Copyright FREEL - NBC Local Media