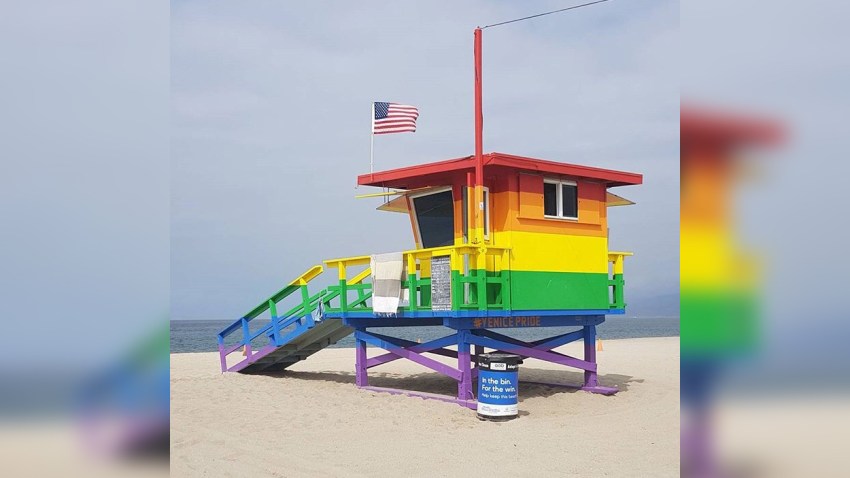 A rainbow-colored lifeguard tower in Venice will remain as a permanent monument to LGBT equality, following a unanimous vote Tuesday by the Los Angeles County Board of Supervisors.
Supervisor Sheila Kuehl asked her colleagues to permanently maintain the tower at the end of Brooks Avenue, on a section of Venice Beach renamed as a memorial to the late Los Angeles City Councilman Bill Rosendahl.
"At a moment when human rights for many communities in this country are under threat, this dramatic artistic and political statement on Venice Beach offers people in Los Angeles a clear statement of inclusion," Kuehl said.
The Scene
What to do, where to go and what to see
She said thousands of people called for the structure -- painted in June as part of the Venice Pride celebration -- to be preserved.
"That's a very moving testament to how far Los Angeles has come toward achieving LGBT equality," Kuehl said.
Backers wore black T-shirts with an illustration of the rainbow-painted tower as they urged the board not to repaint it to match the other light blue towers that line county beaches.
Rosendahl was the first openly gay person on the Los Angeles City Council, where he served from 2005-2013. He died at his home in Venice in March 2016 after a long battle with cancer.
In addition to fighting for equal treatment for gay and lesbian residents, Rosendahl was a longtime advocate for the homeless. And based on his personal experience in managing cancer pain, he became an outspoken proponent of medical marijuana.
In 1994, Kuehl became the first openly gay person elected to California's Legislature.
Copyright CNS - City News Service