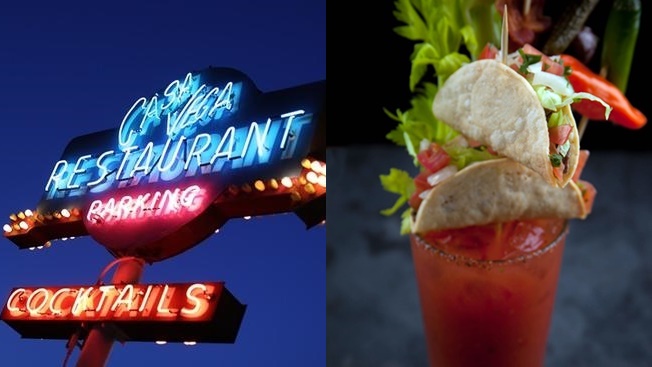 What makes a truly traditional Bloody Mary garnish?
It depends upon the person holding the tomato-tart, horseradish-spicy sip, of course, and their take on the tasty matter. Some people swear by a straightforward stalk of celery, others prefer a couple of plump olives, and, for some Bloody buffs, only a simple slice of lemon will do.
But the garnish game has stepped up, in the competitive world of Bloody Mary-making, and it isn't all the unusual to now find a strip of crispy bacon or even a lobster claw atop your brunch-ready libation.
The Scene
What to do, where to go and what to see
Casa Vega, the vintage Mexican food eatery at Ventura Boulevard and Fulton Avenue, is taking the Bloody Mary garnish universe to a fresh, savory, and why-hasn't-this-happened-before level on Wednesday, Oct. 4, for one day only.
That's National Taco Day, as you well know, and if your next question is "will there be a pair of tiny tacos atop my Bloody Mary on that day, should I visit the historic restaurant?" the answer is, as you are currently hoping and wishing for, affirmative.
Christy Vega, the second-generation owner of the 61-year-old neon-sign'd landmark, is behind this whimsical, munchable creation.
And if Bloody Marys aren't your thing, but Micheladas are, take happy heart: You can get a tiny taco garnish atop your spicy beer drink, too.
The cost is $15 per drink, and, yep, that includes the wee snacks atop your drink, too.
If you can't make the Oct. 4 event, and, do note, this will only happen on the fourth day of October, be not blue: Casa Vega will host a $1 taco promotion on Monday, Oct. 9.
That'll continue on every October Monday through the remainder of the month. So tacos, Mondays, and money-saving deals could be your thing for most of the tenth month of the year.
But on Oct. 4? It's all about small tacos, on a pick, floating above the rim of your Bloody Mary or Michelada glass.
Copyright FREEL - NBC Local Media