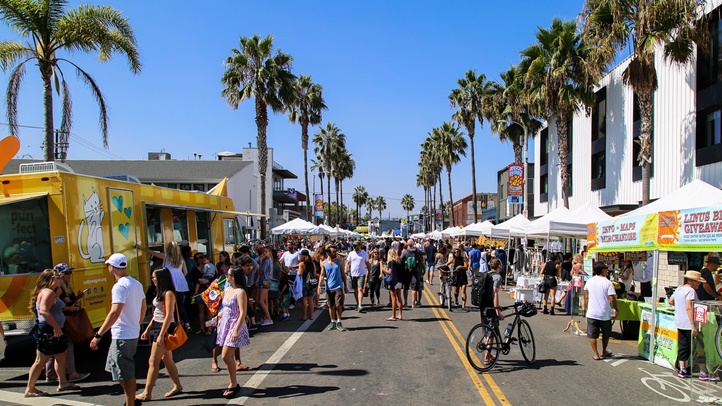 What to Know
Sunday, Sept. 30
10 a.m. to 6 p.m.
Free
There are plenty of happenings on the annual SoCal diary of public-facing to-dos, but most, it may be said, do not take place in the streets.
Think parks, private businesses, concert halls, and such, but thoroughfares are typically the domain of motorized vehicle and not multitudes of revelers.
But Sunday, Sept. 30, 2018 will be just about the street-closingest day on the Los Angeles calendar, thanks to Celebrate LA! which will see eight miles of closed-to-cars asphalt from Walt Disney Concert Hall to near the Hollywood Bowl.
The Scene
What to do, where to go and what to see
There's another major street that will be pedestrianized, though, on Sept. 30, and once you know the street, you know the very venerable, oh-so-loved festival that will take place.
It's Abbot Kinney Boulevard, in Venice, and if you've been to the free Abbot Kinney Festival, which is a staple of September's final Sunday, then you know it is quite the major festivity.
So major that stages are set up, for entertainment, and dozens of craft-creating vendors display and sell their unique and quirky goods, and the food options are stylish and creative and not too dear.
A few hallmarks of the 2018 to-do?
There are a few beer gardens representing different brew houses, so swing by Golden Road, Firestone Walker, Greenleaf, or the Bud Light location.
The KIDSQUAD is where the tot-sweet rides, games, entertainment, and other happenings will take place.
And there are several stages to catch tunes crafted for a more grown-up palate.
After 34 years, it is big, and robust, and as neighborhoody as all get-out. But that doesn't mean that people from beyond Venice don't attend, because this is a bash that has quite the prominent profile.
But a prominent profile doesn't take away from the Abbot Kinney Festival's genially laid-back, no-hurries, no-worries, soak-in-the-sunshine character.
It's true that streets'll be closed at lots of points of our metropolis on Sept. 30.
Which party should you choose?
If you like your on-the-street sauntering to take place close to the ocean, and you've been an Abbot-Kinney-er for years, your feelin'-fine fest is in Venice.
The free Abbot Kinney Festival rolls from 10 a.m. to 6 o'clock on Sept. 30.
Copyright FREEL - NBC Local Media