Gordon Tokumatsu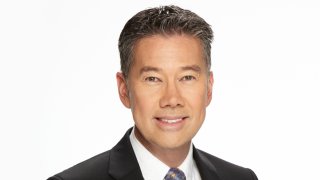 Gordon Tokumatsu is an Emmy award winning general assignment reporter for NBC4. He joined the station in 1993.
Tokumatsu has covered several high profile news stories since joining NBC4, including a piece about an LAPD officer who ticketed an elderly woman for moving too slowly in a crosswalk. The story sparked national interest and was picked up by a number of media outlets. Tokumatsu was the first to reveal the identities of two men arrested in the deadly 1997 North Hollywood bank robbery/shoot-out, and the first to report on the controversial harvesting of corneas by the Los Angeles County Coroner's Office. Tokumatsu also covered the tragic Oklahoma City bombing and the 1994 Northridge earthquake.
Prior to joining NBC4, Tokumatsu served as a general assignment reporter for KCRA-TV, the NBC affiliate in Sacramento.He also hosted and produced Perceptions, a quarterly documentary-style Asian public affairs program. In 1992, he provided sole live coverage of Hurricane Iniki from Hawaii for all satellite news networks. His reports aired worldwide via the NBC News Channel and other outlets.
Before that, Tokumatsu was a general assignment reporter for KLAS-TV in Las Vegas and started his TV career at KESQ-TV in Palm Springs, California. He was bitten by the broadcasting bug while working as a newswriter at KNX News Radio in Los Angeles.
A native of Hawaii, Tokumatsu is half "Nisei," or second generation Japanese-American. He is also half English/Norwegian. He dedicates time to supporting Asian community events, and is a member of the Asian American Journalists Association. He enjoys writing mystery fiction, camping, working out and mountain biking. Tokumatsu lives in Los Angeles.