Ted Chen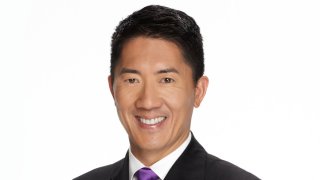 Ted Chen serves as a general assignment reporter for NBC4. Joining the station in 1995, Chen can be seen weekly on the NBC4 News at 11 a.m., 4 p.m., 5 p.m. and 6 p.m.
Chen has reported on many major news stories. He covered the 2008 Summer Olympics in Beijing China, reporting live on the gold-medal winning accomplishments of Team USA, as well as the impact of economic transformation in a country of more than one billion people.
Chen has a passion for politics and has reported on major political stories, and, has covered elections for more than 20 years. In 2002, Chen traveled with then Los Angeles Mayor James Hahn on his historic economic development trip to Asia and filed live reports from Seoul, South Korea and Beijing, China. In 2004 and 2005, Chen covered the Scott Peterson Trial in Redwood City, California.
A journalist known for his versatility, Chen also covers Hollywood such events as the Academy Awards, Golden Globes and Emmy Awards.
Chen came to NBC4  from KGTV in San Diego, where he began as a general assignment reporter and substitute anchor for the weekday morning and weekend newscasts. During his tenure at KGTV, he covered significant events such as the assassination of Mexico's presidential candidate Luis Donaldo Colosio, the 1994 Northridge earthquake and the Malibu firestorms.
Prior to KGTV, Chen was a general assignment reporter and substitute weekend anchor at KSEE-TV, the NBC affiliate in Fresno, California. Before that, he served as a general assignment reporter and weekend anchor for KRNV-TV in Reno, Nevada. At KRNV-TV, Chen provided extensive coverage of major stories including the Oakland firestorms.
Chen is the recipient of an Emmy award and two Golden Mike awards for his reporting, anchoring, and hosting NBC4 specials, including "Life Connected: Asian Pacific Heritage Month," in which he interviewed political and entertainment newsmakers such as Justin Lin, director of the "Fast and Furious" franchise.
In 2002, Chen was honored by the Columbia Graduate School of Journalism's Workshop on Journalism, Race & Ethnicity for his series of news stories on Asian Americans. The pieces covered Asian American political power, the role of Chinese schools in shaping Chinese American children, and the forgotten heroes of Chinese American World War II veterans.
He received a San Diego Press Club award in 1995 for his story on "Area 51," the top secret military base in Southern Nevada used for testing highly sensitive military aircraft. UFO buffs believe the same area was used for alien research covered up by the government.
Chen is on the advisory board of the Chinese American Museum in Los Angeles, as well as The Asian Youth Center in San Gabriel and regularly serves as master of ceremonies for many community events in Los Angeles and throughout the San Gabriel Valley.
He attended the University of California at Los Angeles, and graduated from the University of California in San Diego with a Bachelor of Arts degree in political science.