La Habra police have released images of a man who was shot to death after a shooting ensued in front of the La Habra Police Station Friday evening.
La Habra police officers responded to the front entrance of the La Habra Police Department (150 N. Euclid St.) regarding a road rage incident in the area of the 5 and 57 freeway, according to a press release.
Officers arrived to the front of the police station and the shooting occurred.
Councilmember James Gomez confirmed that a shooting did take place in front of the headquarters and that the person killed was not an officer.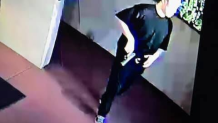 Friday, Gomez also confirmed to NBC4 that one officer was shot and was taken to UCI Medical Center, where he was listed in critical but stable condition.
A firearm was recovered at the scene, police said.
The incident occurred near the Euclid St. and La Habra Blvd. and the surrounding streets were blocked off.