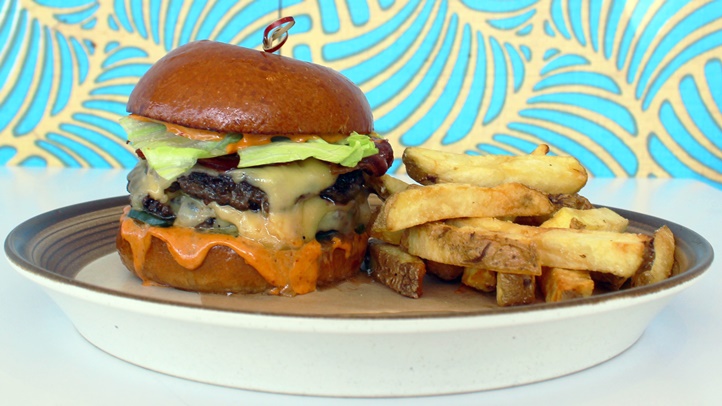 Grilling a burger at home?
Your first step is never simply tossing a patty on the grill. You're going to line up your pickle slices, and your various cheesery, and your mustards and ketchups and dishes of aioli and bacon, too.
And will you nosh a little on a pickle or piece of cheese? Please: It's a traditional prelude to burger-making.
The Scene
What to do, where to go and what to see
Call the start of National Burger Month, which is May, the part where you begin the pre-munching, and call National Burger Day, which is May 28, the moment when your patty is finally done and you bite into the final work of art.
Perhaps you've been honoring National Burger Month throughout the last few weeks, but, if not, you have time over Memorial Day Weekend. True, it is one of the grillingest stretches of the year, meaning you may get invited to a cookout, but if you don't, or you're craving a delicious meat-and-bun situation, and even, maybe, a deal, considering heading out to...
Dog Haus: Ever wanted to make your single-patty'd burger a double? You'll have your chance on Sunday, May 28 by visiting a Dog Haus and requesting that the eatery "Make It a Double, on the Haus!" The result? You'll find an extra patty in your sammie. Dog Haus, by the by, got its start in Pasadena, the birthplace of the cheeseburger.
Bareburger: Swing by this burger chain for a pay-nothing beef or veggie Standard or Farmstead burger from 3 to 6 p.m. on Sunday, May 28. Yum. The place to go? Truck for Santa Monica. One note? This is definitely a "while supplies last" kind of thing.
Rock & Reilly's: Make for downtown or West Hollywood for a Royal with Cheese on May 28, and only pay a tenner for the appetite-stoking honor. You say you prefer your burger for dessert? That's on the menu, too: It's a "burger" with Krispy Kreme buns, vanilla ice cream, Reese's Peanut Butter Cups, and more sweet details.
The Rockefeller: If you can delay your National Burger Day festivities by a couple of days, pen Tuesday, May 30 on the calendar and then be one of the first 10 people to request "The National Burger Special." You'll get a Rockefeller Blonde Ale, plus a special burger, for ten bucks. What's in the burger? Practically everything: two patties, pork belly, bacon, "an oozing hot fried egg," lime crema, ranchero sauce, and more. Place? Manhattan Beach.
Special Burgers: You'll find these beauties at the regular price, but note that a number of local joints are offering special burgers in honor of the burgeriest month of the year. Ray's & Stark Bar at LACMA is serving an American Kobe Cheeseburger, Westbound has a French Onion Soup rib-eye burger, and Boa Steakhouse is rocking a brand-new Tuna & Ramen Burger.
Copyright FREEL - NBC Local Media