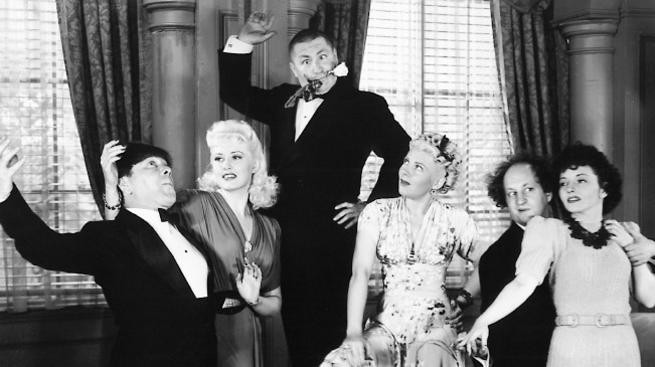 What to Know
Saturday, Nov. 24
2 p.m. and 8 p.m.
$17 general seating
A lot of the guffaws, chortles, and howls that happen on Thanksgiving?
They don't necessarily arise from jokes told at the dinner table or warm anecdotes that everyone has heard a dozen times before (though, by all means, tell those anecdotes, if telling them is tradition).
Rather, mishaps, from a splat of mashed potatoes to, yes, a pie ending up on someone's lap, can summon a truly thigh-slapping, snort-inducing moment.
The Scene
What to do, where to go and what to see
As can one of the traditional happenings of Thanksgiving Week in Southern California.
It's The Three Stooges Big Screen Event, presented by the Alex Film Society at The Alex Theatre in Glendale.
And if you don't literally roll in the aisles, or slap your thigh in laughter, you can bet you'll be seated among people who are ready to find some fun following the Thanksgiving hubbub.
So, as is tradition, Larry, Curly, and Moe'll be on the historic venue's silver screen on the Saturday following the holiday. That's Nov. 24 in 2018, and there are two times to choose: 2 in the afternoon and 8 that night.
A ticket? Seventeen bucks. And while we're not sure how many pies and cans of whipped cream that'll buy, bet'll buy a lot of Stooge-loving smiles if you attend.
This must-do day o' mirth has become a bright beacon for oodles of laff lovers around SoCal. And there has been a lot of laffing over the years: This is the 21st go-around for this gleeful gag-o-rama.
On tap for 2018? "Three for the Showl" is the theme, and you can expect both "Stooges family & cast members" to be in attendance.
Nyuk-nyuk now, over to The Alex Theatre site, for your ticket and all of the slapsticky stuff you need to nyuk. We mean "know."
Copyright FREEL - NBC Local Media