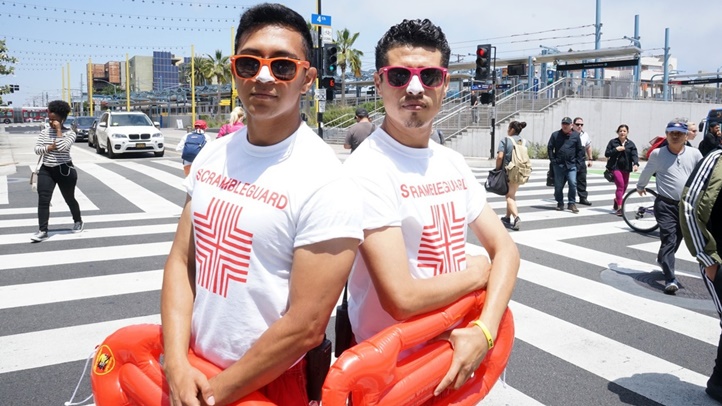 People who live in places with oodles of personality and panache do love trucking out the "only in XYZ" observations. As in, "this offbeat occurrence could only happen here!"
Typically, though? It's probably an occurrence that could easily happen in several cities, to be honest, but what'll go down at a dozen Downtown Santa Monica intersections over Memorial Day Weekend actually and truly does feel like an "only in Santa Monica" kind of thing.
If you've called upon the shop- and eatery-packed area in recent days, you've likely noticed several freshly painted scramble crosswalks, the sort of crossings that allow pedestrians to move "sideways, long ways, and diagonally" through an intersection.
The Scene
What to do, where to go and what to see
To help visitors and locals get acquainted with how a scramble crosswalk works, 45 scrambleguards will be dispatched to a dozen Santa Monica intersections over Memorial Day Weekend, all to provide assistance, navigation, and, yes, pose for a few photographs, if asked.
And they'll likely be asked, given that the scrambleguards will be rocking full-on, straight-from-the-beach lifeguard looks. Good to also know: They're looking to "tan" and "flex" in addition to helming the scramble crosswalks.
Aaaand here it is: Only in Santa Monica could a zinc-nosed altruist, a person who is also carrying an inflatable red float, offer to escort us across the road, give us some pointers on safety, and catch a few bronzing rays, too.
So, where to find these "Guardians of the Crosswalk" over the three-day weekend? They'll be stationed at Colorado and Ocean Avenues as well as Colorado Avenue and 4th Street, as well as other nearby spots.
Meaning that if you're around DTSM from noon to 8 p.m. on May 27 and 28 or 10 a.m. to 6 p.m. on May 29, you may come across one of these tread-mindfully, sun-basking do-gooders.
The photo-worthy weekend pop-up is cute and highly local, for sure, but the scrambleguards are out for important reasons, reasons involving our safety on the street and our general health, too (yes, the benefits of being out on foot are at the forefront of this event).
So if you're out and around Downtown Santa Monica over Memorial Day Weekend, keep your peepers peeled for red floats, sunglasses, and a number of freshly zinc'd noses. Have your camera ready, too, for an Only in Santa Monica pic.
Need scramble crosswalk tips? Memorizing these essential to-knows is as easy as applying sunblock.
Copyright FREEL - NBC Local Media