David Biggar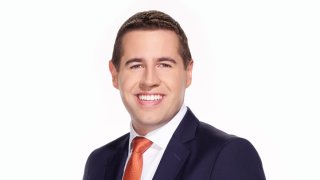 David Biggar is a meteorologist for NBC4 and is part of the award-winning weather team that has earned Most Accurate Weather Team in Southern California by WeatheRate for six consecutive years. He can be seen weekdays on the NBC4 News 4 p.m. and 6 p.m.
Biggar thrives on bringing the most accurate weather conditions to viewers by using the latest technology and tools including augmented reality and the station's mobile weather vehicles, the NBC4x4Caster and StormRanger4. In addition to his regular forecasts, Biggar researches and prepares in-depth segments on weather phenomena, science, and aviation.
Since joining NBC4, Biggar has also reported live for CNBC, delivering breaking ongoing coverage of Hurricane Irma in 2017 and Hurricane Dorian in 2019.
Passionate about meteorology from a young age, Biggar brings a natural enthusiasm for reporting weather conditions for the widely divergent micro-climates of Southern California. He is no stranger to drastic weather conditions, Biggar also reported on major events, such as East Coast blizzards, and has tracked tornadoes in Oklahoma.
Biggar began his career as an intern at KCRA in Sacramento and he quickly moved up from building graphics to anchoring the weekday noon and weekend morning newscasts. While at KCRA, Biggar earned an Emmy award for anchoring the station's weather.
He has received industry recognition and was part of the NBC4 Weather Team that won a Los Angeles Emmy Award for the station's special, "El Nino: Currents of Change" in 2015. He also received two awards from the Associated Press Television and Radio Association for "Best Weathercast" and "Best Weather Reporting," as well as two RTNA Golden Mike awards. A graduate of the University of California at Davis, he earned a Bachelor's degree in Atmospheric Science and is a Certified Broadcast Meteorologist.
When he's not reporting weather conditions, Biggar enjoys flying planes as a licensed pilot. He also follows all forms of racing, from NASCAR to Formula 1 and is a licensed racecar driver.
Biggar was born in South Salem, New York and currently lives in Los Angeles.