That poor girl. Yesterday, planning her wedding ... today, the fiancee of the suspected Craigslist killer. And her guest book on 'theknot.com" is filling up. Here's a sampling:
from: TED BUNDY 4/21/2009 I THINK THIS GUY IS INNOCENT

from: Married 4/21/2009 I think about 6 people have viewed my Knot page you have thousands!!! Congrats!

from: DanPM 4/21/2009 Don't believe the hype, Meganne. Don't...don't-don't...don't believe the hype.

from: lilly anne 4/21/2009 you didn't meet him on Craig's, list I hope?
Not the kind of comments you normally see on a couple's wedding website. In addition to the now-bizarre guest book, there are pictures of her and her intended, and details on the ceremony that's slated for August (complete with a countdown clock) and the story of how they met:
Local
Get Los Angeles's latest local news on crime, entertainment, weather, schools, COVID, cost of living and more. Here's your go-to source for today's LA news.
We met while going to college at University at Albany together. Megan was a senior and Phil was a sophomore. Our apartment buildings were right next door and we didn't even know it until we met one day at the hospital.

We both started volunteering at the hospital on September 19, 2005. We volunteered at the Emergecy Room together and spent about 2 months pushing stretchers down hallways and bringing blood and urine samples to pathology together before our first date on November 11, 2005!!
You can find some screenshots of the website on the slideshow, top left. It looks like the website has been taken down, or at least is so heavily trafficked that it's not loading, so I figured I'd post screenshots since the site may or may not exist anymore.
The picture here on the right, is Megan McAllister's Facebook profile photo. Our nbcla.com story says she didn't respond to Facebook messages about her thoughts on fiancee Philip Markoff's arrest, but on the website LALate News, is the following statement from her:
Megan says the cops have the wrong guy and everyone including prosecutors and cops should "leave us alone".

"Unfortunately, you were given wrong information as was the public," McAllister wrote to ABC News in an e-mail. "All I have to say to you is Philip is a beautiful person inside and out and could not hurt a fly! A police officer in Boston (or many) is trying to make big bucks by selling this false story to the TV stations. What else is new?? Philip is an intelligent man who is just trying to live his life so if you could leave us alone we would greatly appreciate it. We expect to marry in August and share and wonderful, meaningful life together."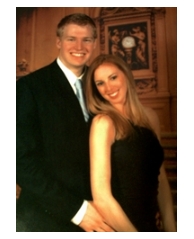 I think most people were surprised that the so-called "Craigslist killer" could be a sweet faced college student, engaged to a pretty girl who he met while working in a hospital, with no criminal record.
But I think it's mostly his looks. We are always surprised when attractive looking people do bad things. Or, when people considered physically unattractive do beautiful things, like we saw on that British talent show last week. It's such a contrast to the whole Susan Boyle effect ... it brings to mind an Andy Borowitz column I saw on the Huffington Post that was sort of a tongue-in-cheek editorial called "Talented Ugly Person Baffles the World:"
The success of singer Susan Boyle on the reality show Britain's Got Talent has caused both television networks and their viewers to reconsider the intrinsic value of ugly people, media experts say.

In living rooms around the world as well as in the executive suites of media giants, those exposed to the Susan Boyle phenomenon are grappling with the paradox - thought impossible up until now - that an ugly person could be talented.
And of course the reverse is true, that attractive people can do ugly things. Consider everyone's favorite example of this, Ted Bundy, who was considered conventionally handsome and charming, or the angelic face of Skylar DeLeon, whom a judge just sentenced to death for killing a Southern California couple by tying them to their boat's anchor and throwing them overboard to sink to their deaths.
But let's get back to Megan McAllister for a minute. There is another paradox at work here. You have to feel awful for this young woman no matter what happens. If he was wrongly accused, to have been thrown into the spotlight this way is terrible, and she is living a nightmare right now. And if he is guilty, she will have years of wonder and self-doubt, that she loved a killer enough to plan to marry him.
But that leads us to that paradox, about how this could be considered the BEST thing no matter how it turns out. If he is guilty, she narrowly escaped a marriage to a very bad man.
If he's innocent, and they make it through this, they will likely have a lot of money from the lawsuits, the book deals, and the movie rights with which to begin their "wonderful, meaningful life together."